The HD-Audio Challenge II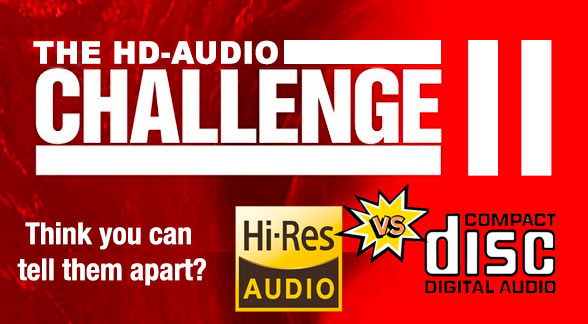 A Little Wildfire Drama
Just about every place one might choose to live, there's a chance that mother nature will bring some sort of natural disaster to bear. At 2:30 am this morning my iPhone started beeping loudly due to a wildfire that was raging out of control in the Sepulveda pass. I looked outside and could see the smoke and faint red glow only a few miles away — and the famous Santa Ana winds were pushing the fire southwest towards my home. Initially we weren't in the mandatory evacuation zone but as the fire continued to burn up and down the hillsides, our home just up the hill from the ocean was inside that zone. So we collected everything we thought would be missed, stacked up boxes by the front door, positioned the car, and prepared for the final notice. Thankfully, it never came. With sunrise at 7:09 am, the large fixed wing DC-10 chemical retardant planes took over from the helicopters and managed to stop the advance — at least for now. The Santa Ana are coming back on Wednesday. We won't be unpacking the boxes just yet.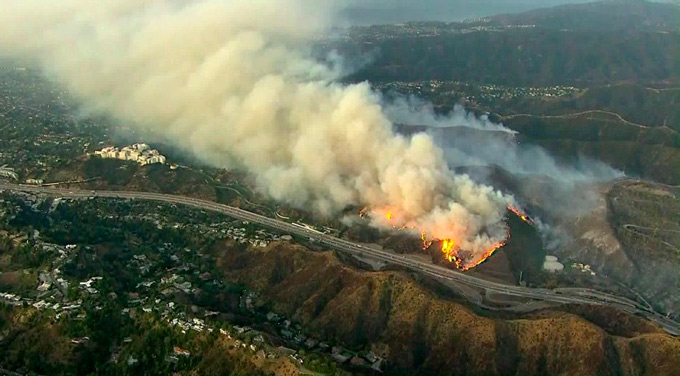 The HD-Audio Challenge II Is Coming – The Week!
I spent the weekend gearing up for the second round of the HD-Audio challenge. Some of you may remember the first iteration of this study (click here). The music industry seems intent on continuing to push their claims that "hi-res audio" is a tremendous advance in the evolution of music reproduction. After being involved with real high-resolution audio for almost 20 years, I'm not so sure it matters. I'd love to demonstrate that hi-res music and hi-res audio are delivering a "better" experience, but the studies I've read have left me unconvinced.
I believe that I can contribute to the debate by offering up a catalog of real high-resolution tracks in a variety of formats. You — my readers and fellow audiophiles — can download the tracks and play them to your heart's content. I only ask that you not analyze them to determine which is which. What's the point of cheating?
I've selected 20 tracks from a variety of genres and took into consideration suggestions from many of you. I've included solos, small and large ensembles, acoustic and electric, and vocal vs. instrumental http://www.realhd-audio.com/?p=6197 .The tracks that will be available are listed below: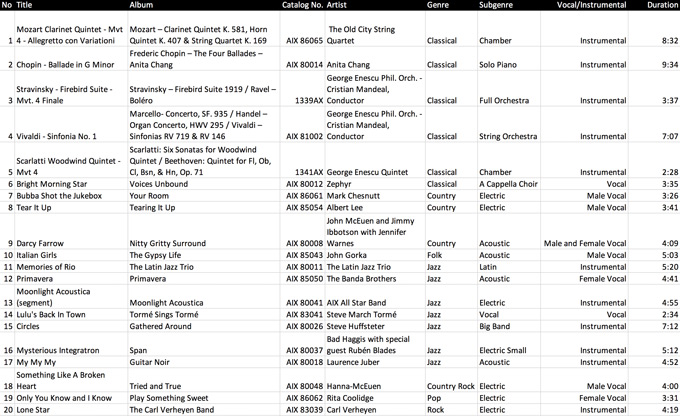 These are full length tracks not merely samples.
I spent all weekend converting the tracks using Sonic Studio's professional software tool PROCESS to do the conversions. I took the native 96 kHz/24-bit PCM masters and downconverted them to 96 kHz/16-bit, 44.1 kHz/24-bits, and 44.1 kHz/16-bits (CD "Redbook" spec). I will also create constant bitrate MP3 versions at 320 and 256 kbps for those interested in compressed formats. Then I converted all of downconversions back to 96 kHz/24-bits so that all of them are precisely the same size. I have been very careful to ensure that they are the same volume.
I have uploaded all of the files to a folder in my premium Dropbox account and will "Share" the contents with those interested in participating in the study. The files are randomly named and should provide a rich opportunity for those willing to download them and do some serious listening. The goal is to discover if bona fide high-resolution audio recordings can be distinguished from lower resolution formats.
A Preview
I will be doing a thorough analysis of each file and providing the spectra and dynamic analysis to participants. I've already done that for a test file by The Latin Jazz Trio. Here's the spectra of all of the formats: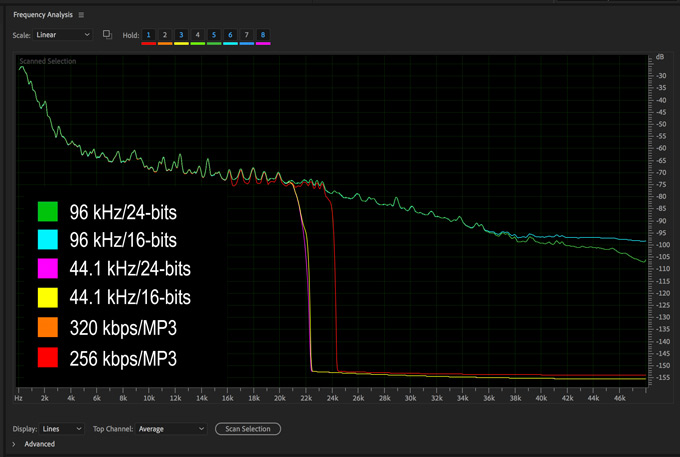 Sign Up
The more audio enthusiasts that participate in this study, the more raw data I'll have and the more valid the results will be. I'm prepared to be criticized for the casual nature of this experiment. Some will insist that using my own catalog is too limiting, others will insist that it be done in a state-of-the-art studio, or with mega buck equipment. I don't believe that any of those things matter. We all have different rooms, systems of differing values, and varying abilities to listen…exactly the diversity that is required to establish whether the marketing claims made by the industry are true.
This should be fun. I'll leave the files up for a couple of months. I have to report back to my university sometime in early 2020, so you'll have lots of time. Thanks!