Amazon Music HD – Revisited
The new Amazon Music HD service was the subject of a post a few weeks ago (click here). While not exactly viral, my comments did bring a few thousand visitors to the Real HD-Audio site. Today, as I sit and listen to my trial subscription, I thought I would revisit this new entrant into the high-fidelity streaming marketplace. Why? For a couple of reasons.
First, I'm genuinely enjoying the service. I hooked up the line output my iMac to the analog inputs of an old Yamaha receiver I had laying around and then to a stereo pair of B&W FCM-8 THX speakers I removed from the studio. It sounds pretty good. I have no complaints about the fidelity or the operation of their user interface.
Over the past few days, I've been prepping files for the upcoming HD-Audio Challenge II. I've been selecting files, converting them to the appropriate sample rates and word lengths, reconverting back so that they're all 96 kHz/24-bit files, making sure the "created" and "modified dates" are all the same (using the "touch -t" command in the terminal), and uploading the randomly named files to my premium Dropbox. It's slow going but I'm making progress. I should have files available this week.
And I've been listening to a lot of music using the Amazon Music HD application. I listened to an early Spirit album from 1972, some Moody Blues, John Gorka, James Taylor, Joni Mitchell, Neil Young, and a few others. The confusion over which albums are 96|192 kHz/24-bits or "Ultra HD" vs. the Redbook albums at 44.1 kHz/16-bits, which Amazon has insisted on elevating to "HD" status continues. But here's what triggered this mini rant.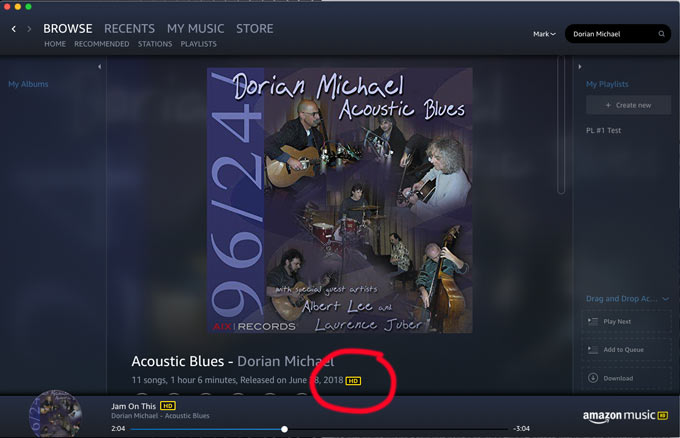 I search for and found an album I produced and engineered by a great guitar player and close friend named Dorian Michael. I told him I would record an album with him if he could hook me up with a couple of bigger names — and he did. Dorian was responsible for introducing me to Laurence Juber and Albert Lee, two absolutely amazing guitarists. The recording is called Acoustic Blues. It became one of Kalman Rubinson's favorites in an old review as I recall.
There was one of my AIX Records albums on the Amazon service. I was a little surprised to see it there but I guess my relationship with Warner Brothers digital distribution is the reason. And if you look at the screen grab below, you'll see the Dorian Michael album designated as "HD". But the playback isn't 96 kHz/24-bits — it's 44.1 kHz/16-bits ("HD" in the crazy world of Amazon). This album is one of the very few bona fide "hi-res" music albums that Amazon could stream as "Ultra HD" but they choose to use the standard-res copy. It's like they're living in a bizarro music world.
And it gets worse.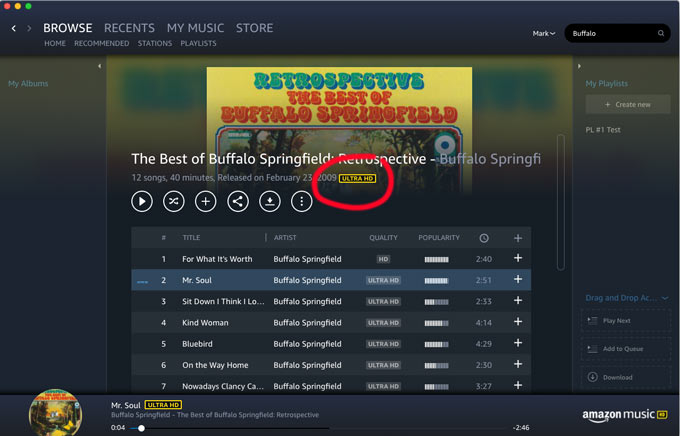 After enjoying Jacob Dylan's "Echo in the Canyon" documentary and reminiscing about the 1960s Los Angeles music scene, I pulled up the Retrospective album by Buffalo Springfield, which was recorded on analog tape and is designated as "Ultra HD"! Subscribers to Amazon Music HD has absolutely no idea what the fidelity of the music being streamed is. It's very frustrating. I guess I'm going to have to start my own AIX Music HD subscription streaming service.
HD-Audio Challenge II Updates
I'm hoping to have at least some the files available on my Dropbox site before I leave for the Capitol Audio Fest and New York Audio Show on Thursday. But there's the question of just exactly what files to upload? I have the original master at 96/24 and three downconversions at 96/16, 44.1/24, and 44.1/16. I created these "progressively" lower resolution versions because several readers suggested I do so. And then there are the two lossy versions — the MP3 versions at 320 and 256 kbps.
I'm open to additional suggestions but I think I'm going to segregate the files in separate folders according to what comparisons individuals want to make. Like many others, I'm primarily interested in whether listeners will be able to tell an original 96/24 file from a CD-spec downconversion at 44.1/16. I will have a folder for that comparison. Maybe there should also be a folder with 96/24 vs. 96/16 files for comparison and another with 96/24 vs. 44.1/24. Maybe another with 96/24 vs. 320 MP3? Or 44.1/16 "CD Quality" vs. 256 kbps MP3? The permutations are endless. What do you want to include? Please feel free to comment. I don't want this to become unwieldy.
When I created the form for the new HD-Audio Challenge, it wasn't clear what the checkboxes were for. I've update the form with labels. The idea of the checkboxes is to get people to agree to be honest about this test (I hope everyone is trustworthy and won't examine the files BEFORE submitting the results) AND to encourage people not to share the files with others.
Holiday Discounts
The special discounts for both the Music and Audio Book and for the entire AIX Records catalog continues. If you're interested in some of the best deals of the year, please use the corresponding COUPON codes during check out.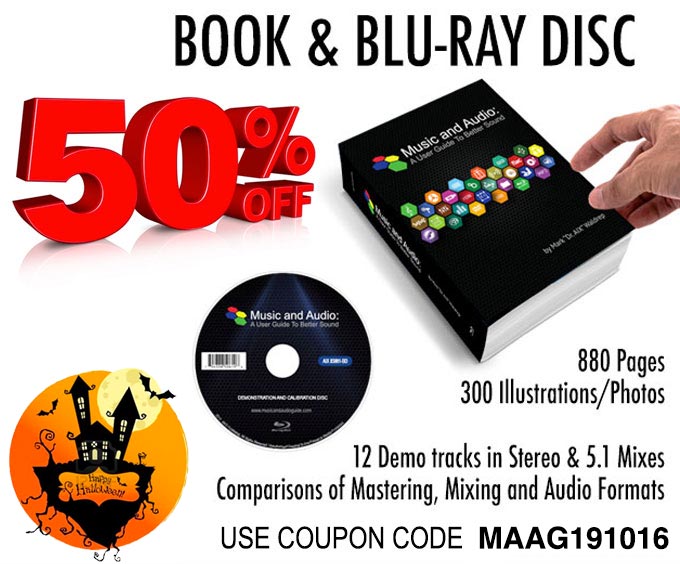 Use AIX191101 for a 25% discount on AIX Recordings through the end of November.