T.H.E. Show: A Great Show by Audiophiles
The 2019 edition of The Home Entertainment Show is over. Unlike years past, I didn't drive home every night. After an unfortunate experience at a nearby Travelodge (loud music coming from the adjacent room and no option to swap rooms), I ended up staying at the Long Beach Hilton — the home of the show. Being on the show property gave me the opportunity to share a meal or drink with some customers and other vendors — which can provide insights into the essence of the show. And by all measures, Maurice, Kyle, DJ and all of those involved in the show produced a really great show. T.H.E. Show is THE Southern California event for real audiophiles! Kudos to them for ignoring detractors and pulling off a winning show.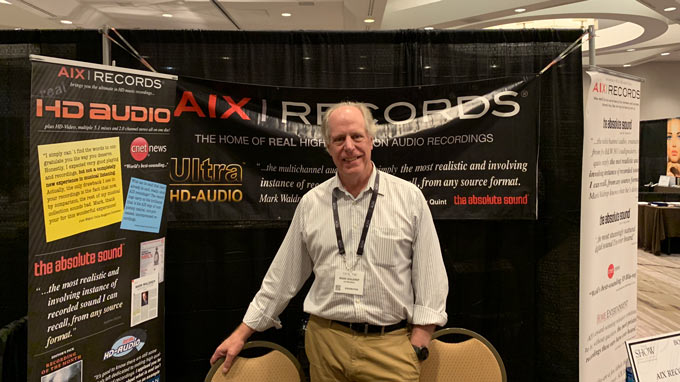 As I wrote previously, this isn't the biggest show in the country but is likely the best in my opinion. The benefits of being local means I don't have to ship hundreds of pounds of books across the country and the willingness of the show management to tailor a program to individual vendors is unusual and very much appreciated — the organizers are interested in more than just the bottom line! I actually sold more books at The Home Entertainment Show this past weekend than I did at AXPONA 2019 — and went home with more money in my pocket — even though AXPONA claims to attract the largest audience. It's not the numbers that matter is the quality of the attendees.
It was my sincere pleasure to deliver the opening presentation on Friday at 1 pm. It took me a little searching to locate the room — the program announced the speakers but didn't mention the location — but when I did I was very pleased to find a ballroom full of curious audiophiles. Sitting in the front seat was an octogenarian (he told me he was 85 years old) wearing a hat sporting the McIntosh logo. It encouraging to know that our passion for music can survive into our 80s. The show's social marketing guru Emiko — an energetic young lady, music artist, and very capable member of Maurice's team — introduced me with a little more exaggerated praise than I'm used to but I was grateful for the opportunity to launch the weekend's proceedings.
Readers of this blog can imagine what I shared with the group. I talked about my path from true believer of high-resolution audio to tentative skeptic and how I can to produce almost 100 bona fide hi-res music albums. I also talked about the book, the upcoming research project, and some of the hoaxes that they were likely to run into over the weekend in some of the rooms. The message seems to have resonated — I was thanked with a rousing round of applause. Later that day, Emiko can up to me at my table and asked what I had done to the group. Apparently, she had been getting a fair number of emails, tweets, and instagrams notices about my talk.
++++++++++++++++++++++++++++++++++++++++++++++++++++++++++++++++
50% OFF Sale Extended For 2 More Days!!
Special 50% Discount for Blog Readers!
I'm going to continue the discount for a couple more days, so hurry to get your copy of the paperback book and blu-ray.
Visit Music and Audio: A User Guide to Better Soundto get your copy today!
++++++++++++++++++++++++++++++++++++++++++++++++++++++++++++++++
On Sunday, I gave another presentation on approaches to assembling a high-fidelity system without spending a lot of money — which was also favorably received. I was impressed the aging gentleman with the McIntosh hat was once again sitting in the front row. He drove for over 2.5 hours from Palm Springs back to Long Beach just to hear me speak. That was certainly unexpected but he told me that my initial presentation had made a profound impact — he was thrilled to hear someone telling the truth about a hobby that he has practiced for over 60 years!
I never had the chance to visit the demo rooms on the upper floors of the Hilton or the ballrooms nearby. You can read show reports written by others for information on expensive speakers and other systems. I did have an interesting conversation with a Dutch gentleman who was excited about the DCC (Digital Compact Cassette) format that died in the early 1990s. Who knew there is a DCC museum in Redondo Beach, California AND that you can still enjoy this dead (?) format! He convinced me that it's not dead yet.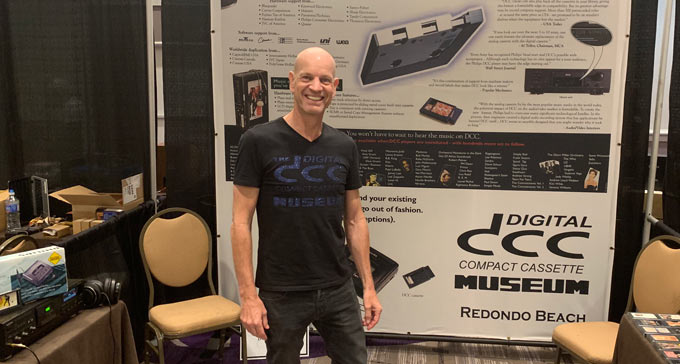 And finally, the J-Corder people were in the booth next to me. They were offered rebuilt Technics 1500 reel to reel machines for well-heeled audiophiles. They had two of them at their booth AND an old AMPEX 351 deck all dressed up in lights and yellow plastic. Kim, the owners daughter told me they sold one of the Technics decks for $28,000 and had orders for a couple more. Amazing! That a 40 year old consumer machine (not even a professional machine!) can command that price is astounding. My Nagra IV-S with QGB adaptor is a much better machine but is worth a fraction of that. I must admit it is cool to watch the reels going around. And the machines are beautiful.
T.H.E. Show was a big hit in my mind. Good people, lots of traffic, best sales of all shows, and in my backyard. Can't wait 'til next year.