The AIX Records and iTrax digital music download sites have been down for many months. The machine that served both sites (and some others including this blog) couldn't be upgraded to accommodate newer software so I needed to identify an alternative. Additionally, the AIX Records website was hard coded, non-responsive, and outdated — it is time to remake the whole thing. And I have recently started working on the new AIX Records site.
I've decided to use a WordPress theme called Storefront in combination with WooCommerce. You can take a look at the staging site at https://www.aixrecords.dreamhosters.com/. It's a long way from being finalized but most of the album artwork has been remade. I had to reshape the covers from rectangular to square to work within the new theme and assemble a database of the albums — which is still underway. Plans include having downloadable versions of each album and the ability to audition every track. Please be patient. It's going to take a while to get things exactly the way that I want them. And I'm open to any suggestions and comments, of course.
In the meantime if you're interested in purchasing products from the AIX Records catalog, please feel free to try the new site to make your purchases. I've done some preliminary testing and it will accept domestic orders without difficulty. As an incentive to new or returning customers, I'm happy to offer a 25% discount on ALL AIX Records products. Just enter COUPON CODE AIX190704 during checkout and you'll receive the discount.
If you have trouble using the new site, just drop me an email and I'll make sure what you want with the proper discount. We can use Paypal in the interim.
If you'd prefer to purchase files instead of discs, I can make those available with the same discount. I managed to offload all 3 TB worth of my high-resolution files from the German server (thanks to those that provided help during that lengthy procedure!). I have all of the files on my local machine and can send them to you via Dropbox or WeSendIt.
The ultimate plan is to offer audition tracks, downloads, and maybe even analog tape transfers (more on that later) from the site. Stay tuned…it's coming. If you need to audition tracks, you can still visit www.aixrecords.com.
And lest I forget about the book, here's a July 4th coupon for a 35% discount on the "new gold standard".
++++++++++++++++++++++++++++++++++++++++++++++++++++++++++++++++
35% OFF Fourth of July Sale!!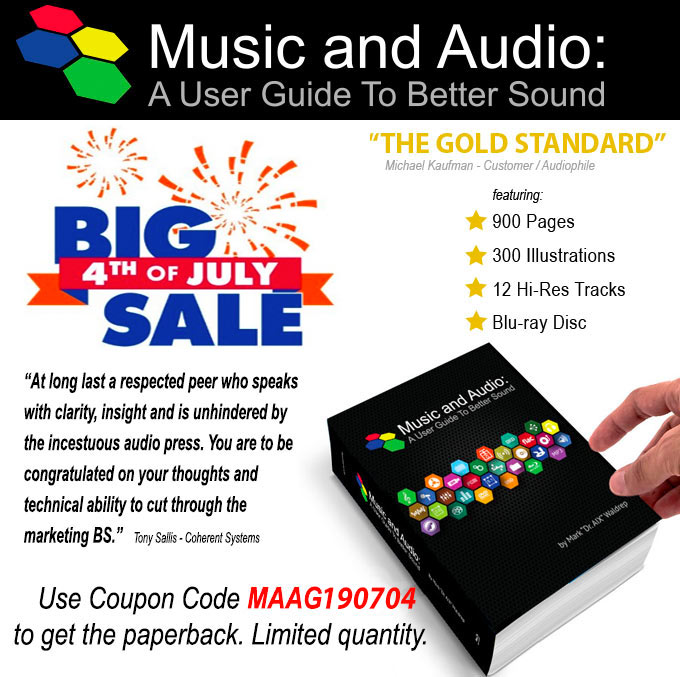 Special 35% Discount for Blog Readers!
Get your copy of the paperback book and blu-ray NOW! USE COUPON CODE MAAG190704.
Visit Music and Audio: A User Guide to Better Soundto get your copy today!
++++++++++++++++++++++++++++++++++++++++++++++++++++++++++++++++