Two Contrasting Views of an HD-Audio File
Some days the dog bites you and some days you bit the dog! The new iTrax – Sprint Ultra HD-Audio Sampler has been downloaded many hundreds of times over the past week. I'm thankful that there are so many readers and others interested in hearing the variety of music I offered in the best quality possible. And I am quite interested in what people think about the music and the fidelity…both positive and negative. That's the core of today's post. I've received a number of comments and wanted to feature two completely opposing points of view. It's hard for me fathom how both could be true…but these are straight from the horses mouths.
I received this email a couple of days ago:
"Dear Sir:
After careful listening & inviting fellow music lovers over to audition this new HD download, I've come to the conclusion that it was money wasted. I can't hear much more than a nickels difference between my CD collection (or new downloads from iTunes) and these tracks. This was my first and regrettably last purchase from iTrax. I was really looking forward to getting deeper into the music.
Please see 'my system' info with the attachment less you think that I'm using circa 1955 car audio equipment.
Regrettably yours, Richard"
I can attest to the fact that Richard's system would seem up to the task of playing high-fidelity content. He included a photo and a list of his equipment, which includes ARC D200 & SP16 Linn Karik & Numeric CD Player, TEAC 6010 GSL, SAE Digital FM Tuner, CLS II Z, Kinergetics K200 Amp and SW100 Woofers, Koss ESP.9 Electrostatic Stereophones, Panamax MAX 5500 AC Regenerator, Linn Interconnects & Speaker Cables, AudioQuest FLX-X RCA Splitters & NRG2 Power Cables & Diamond Mini USB, Shunyata Venom 3 Power Cord, 2012 Antelope Audio DAC & Black Box Music Server (home made) additions.
Here's a picture of the setup…very nice I think!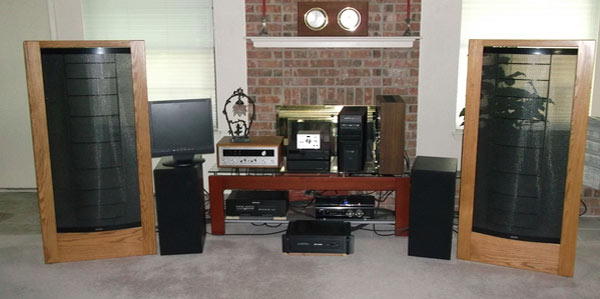 Figure 1 – Richard's audio system…a high-end two-channel set up featuring electrostatic speakers.
I wrote back to Richard and let him know that I was disappointed that he and his friends didn't experience any improvement in the fidelity of my tracks vs. CD or iTunes downloads. I quoted a few positive comments and left it at that.
I would like to ask Richard how much improvement in his music playback he "hears" from his power cables and expensive interconnects"…more than a nickel's worth? The $11 spent on 90 minutes worth of new UHD recordings was wasted but the $150 Shunyata Venom 3 power cord was a valuable addition to his rig? Oh well…
This morning I received a very enthusiastic email that makes it very clear that the files on the iTrax – Sprint Ultra HD-Audio sampler do have something going for them. Here's that email:
"Dear Mark,
For various reasons, I had all but lost interest in recorded music – then I stumbled upon your sonically gorgeous offerings. Needless to say, my interest has been exponentially piqued by the experience and I can't thank you enough for allowing me to sample the demos on the FTP site. I have since gone on and purchased the new Sprint compilation and am enjoying it immensely. Notwithstanding the superior technical quality of the recordings, they also starkly highlight the importance of content at a time when it seems there exists an inverse relationship between the level of advancement of the content delivery platform and the quality of the content itself. Although highly subjective, all too often I hear poor quality music that is in no way redeemed by the smoke and mirrors of specifications and whiz-bang production. Bad is bad, in high resolution or otherwise. So it is refreshing to hear such an eclectic range from the AIX stable and additional purchases are no doubt imminent.
Your passion is commendable, as is your humility in sharing your talents with all who will listen, as opposed to promoting yet another niche product for musical enclaves to espouse in a self-important, exclusive and elitist manner. Thank you again and I wish you continued success.
Yours sincerely,
Paul"
So there you have it. Obviously, I agree with Paul's perspective. But I can't help wondering what could have possibly gone wrong during the listening sessions at Richard's place. I find it very hard to believe that an iTunes download is only a "nickel's worth" different than a real HD-Audio file. I'll post "Let Them In" from John Gorka in both AAC from iTunes and as it is on the iTrax – Sprint Sampler.
I would love hear from those of you that have heard the new sampler. Does it sound the same as a CD or iTunes download? Does it sound the same as other tracks encountered on other high-resolution download sites? Who's opinion do you think got it right?