Amazon Music HD News – More Nonsense!
It was all over the news this week! There were articles at the usual music industry websites and even at NASDAQ.com announcing the new partnership between Amazon Music HD and Universal Music/Warner Music. This new initiative lays out plans to to add additional "Ultra HD" tracks to the Amazon Music HD catalog by remastering albums and streaming them at 192 kHz/24-bits.
According to Steve Boom, VP of Amazon Music, "We launched Amazon Music HD last year with a promise to always offer our customers the best quality recording available for streaming, With this partnership, we are building upon that promise by upgrading existing recordings to make the listening experience even better, and preserving artistic legacy for future generations."
Kevin Gore, President of Global Catalogue, Recorded Music at Warner Music Group, added, "We're always excited about new opportunities for fans to experience music in the highest sound quality available, exactly as the artist intended. With Amazon Music HD … music lovers are now able to immerse themselves in the original recordings at an unprecedented level of fidelity for a price that had previously been out of range."
Steve and Kevin's words are more of the same nonsense that the industry has been spewing ever since hi-res music become a "thing" back in 2000. How many times have I read press releases or heard "experts" talk about experiencing our favorite music at the "highest sound quality available" or that we're going to hear it "exactly as the artist intended." The idea of "upgrading existing recordings" is somewhat new but all it means is they are going to remaster the digital transfers that they've already done. It's almost as if there is an industry glossary that these people draw upon whenever they need to describe the exciting new era of hi-res music. Or should I say "Ultra HD?"
The other part of the Amazon Music HD release did contain some interesting news. I've written about the increasing popularity of immersive surround or 3D music mixes and was pleased to read that "select albums and songs will be remixed in 3D audio format, like Dolby Atmos and Sony 360RA." When it comes to surround music mixes, I'm all in. The stuff about "upgrading existing recordings" is going to be problematic.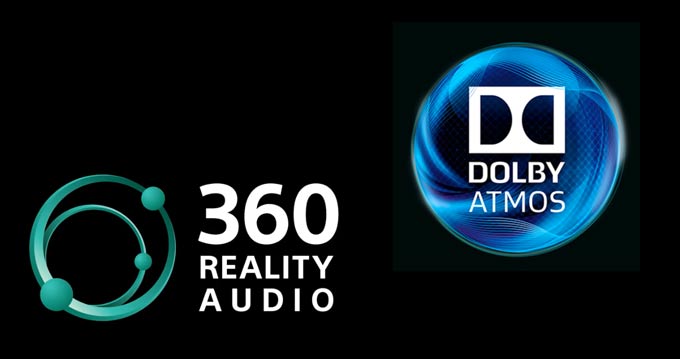 Falsehoods from the Inception of Amazon Music HD
Before pointing numerous falsehoods in the marketing that Amazon Music HD spouts, I have to admit at the present time it is my preferred music streaming service. The catalog is very deep, the user interface is functional, and the price is right. For casual listening, I can sit here at my computer, type in just about any artist or album, and be listening to Mac McAnally or Spirit a few moments later. I stream from my Mac Pro to a Benchmark DAC3 B and listen through a Benchmark HPA-4. Is the experience the same as playing one of my Blu-ray discs in my B&W equipped studio? No. But with a construction project happening at the end of my driveway and the air conditioner turning on every so often, the fidelity is really good.
However, Amazon has not been honest about what fidelity they stream and I doubt they will start any time soon. In business and politics it's all about perception. I guess because they are one of the two 800-pound gorillas in the streaming music marketplace, they feel they can move the goal posts in defining HD music and create a new category called Ultra HD. They claim they offer "unlimited access to 60 million songs in HD." That's a lie — unless you buy into Amazon's reshuffling of the official hi-res audio lexicon and accept that Red Book CDs are HD. After more than a decade of arguing about what is and what isn't hi-res audio, industry organizations, major labels, and hardware companies established Red Book CDs as "standard-resolution" and designated anything higher as hi-res.
What were previously hi-res are now Ultra HD in Amazon's world. The claims of offering the "best quality recording available" rings hollow. All of the music we hear streamed through TIDAL, Pandora, Qobuz, Deezer, Apple Music, or Amazon Music HD originate from the same substandard tape transfers done at the label's mastering studios by staff engineers. And most of the time the actual masters aren't the one being transferred. The labels could purchase state-of-the-art, precisely calibrated Studer analog tape decks to do their transfers or pay for proper analog to digital files using these machines in conjunction with the best ADCs but they choose not to because of cost. After all, who's going to notice? Leave it to the marketers and organizations like the CTA and NARAS to promote things like "as the artists intended."
And It Really Doesn't Matter
The AES Fall 2020 Convention has already begun. My presentation is finished and will be available shortly. The survey on the perceptibility of native hi-res vs CDs confirmed that picking the HD version is no better than chance. A 44.1 kHz/16-bit CD or file is indistinguishable from an HD file regardless of whether it comes from a disc or is streamed to your DAC. It's time to stop pushing the myth of hi-res and get back to the basics of great record production.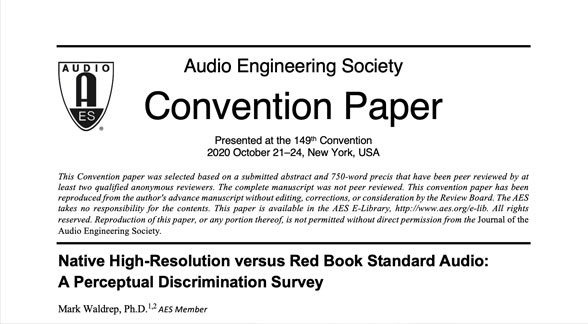 Streaming, Download, and Personal Audio Campaign Continues!
I launched my second Kickstarter campaign exactly one week ago. So far, the response has been terrific — 152 backers have pledged $5100 towards the $10,000 goal. I want to thank all of the backers who have selected a reward and encourage those who have yet to back the campaign to step up. Whether you have been a reader since the inception of this blog back in April of 2013, joined the group as a result of the HD-Audio Challenge, or read one of the 1200 free articles more recently, I would encourage you to take advantage of the steep discounts for the new book, for both books, or for the addition of FIVE AIX Records downloads. This is the time to step up and show your support for this site and the thousands of hours I have spent fighting against the industry charlatans. The next couple of weeks will determine whether we reach the goal or not. Please consider making a pledge of as little as $15 or get the full monty for $150 today. If we reach the initial $10K, I have some great stretch goals in the wings.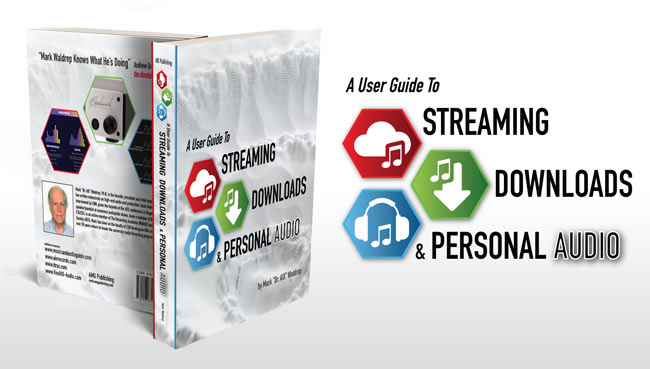 Visit the Kickstarter site right now and make a pledge: https://www.kickstarter.com/projects/aix/a-user-guide-to-streaming-downloads-and-personal-audio
And please help in the promotion of the campaign. Post on your favorite FB page or audiophile webpage. Thanks very much.