HD-Audio Challenge II: Update
It's incredibly gratifying to see the list of submissions for the HD-Audio Challenge II grow past 400! Everyday, my email includes dozens of people asking if it's too late to participate. I respond by forwarding the credentials to download the 40 files and hope that they enjoy listening to the files, selecting which they believe is the HD-Audio version, and submitting their results. Here's the link to the sign up page, if you're interested CLICK HERE.
And then there are the emails alerting me that someone has submitted their results. The first thing I notice when I look at the form is the age field. I'm hoping for someone under the age of 50 but it rarely happens. Are all audiophiles over 60? It sure seems like it. The median age of all participants in the HD-Audio Survey stands at 58 today. Maybe it says more about the readers of this blog, than the audiophile community at large — but I'm not sure.
If you're one of the audio enthusiasts that has gone to the trouble of downloading the HD-Audio Challenge II files, I would appreciate it if you would invite your children, younger friends, twenty-something associates, newly wed neighbors, and nieces and nephews to sit down for a couple of hours and listen to the survey files on your system. It's going be a little disappointing — and will diminish the validity of the study — to have the survey results ignored by the industry organizations because the majority of those participating are retirees or on social security. I'm not sure the recognized high frequency loss we older men have is a make or break issue in determining high-resolution audio (it seems not to affect the results), but attracting younger participants would be very helpful. Now is the time for the next generation of audiophiles to step up.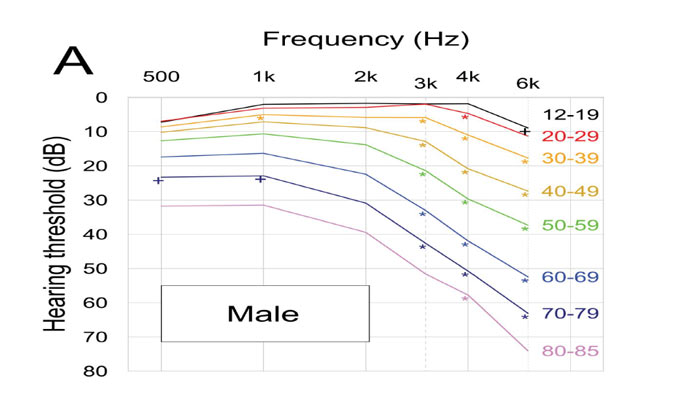 No Choice: What to do?
As I begin to analyze the responses to the HD-Audio Challenge II, the inclusion of "No Choice" in the submission form is proving to be difficult for the statistics people. One told me that they would not have restricted the choices to A or B – the study is a Binomial Test. Basically, forcing people to make a choice when they honestly couldn't hear any difference between the HD-Audio file and the downconverted CD Red Book version. I've pushed back and said that my original hypothesis is supported when participants acknowledge that hi-res audio and CDs sound the same. But it causes problems in the analysis to have a third choice. I will have to report the "No Choice" group outside of the main data set but I still believe it is significant to this survey.
If almost 25% of respondents tell they can't tell a difference, I have to respect that and include that in my analysis!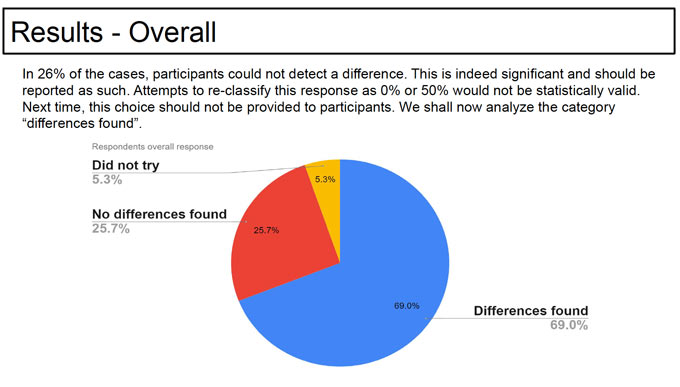 A Conversation with a Young Participant
The spring semester is almost over and it will certainly be one to remember. Midway through March, all in classroom instruction was halted and teaching was moved online. Every week I prepared videos using my new Apple Pencil and iPad, recorded computer screens, and tucked a small video of myself in the corner of the video. I managed a three camera shoot a few times a week as I tried to keep the pace of instruction moving forward. I'm not convinced that remote teaching is as effective as one to one classroom instruction but we had no choice. The toughest class was DMA 447, a course taught in the studio that requires students to demonstrate their proficiency in using the console, microphones, the patch bay, outboard gear, and the Pro Tools DAW. Obviously, that class had to be put on hold until the university lifts the stay at home order. It would be like trying to take a driving test without ever getting behind the wheel of an automobile.
But I have been doing a fair amount of ZOOM meetings — basically office hours via computer screen. Today, I spent almost 45 minutes chatting with one of my advanced audio recording students — an excellent student that participated in the HD-Audio Challenge. He's 32 years old and is an active audio engineer with a small studio and Pro Tools software. He was able to identify 16 of the 20 tracks as high-resolution versions — a score of 80%. So we chatted about his success and how he approached the task. In the submission form he stated, "I imported the files into Pro Tools so I could switch quickly between A and B as the tracks played. I would loop small sections with vocals if there were any, bass heavy sections, or breaks with audible reverb tails. My loops were around 1-2 seconds long."
During our ZOOM teleconference, Ben shared that he played small sections using headphones at a very loud volume. He failed to identify any difference using his studio monitors. He admitted that it was very difficult to make the selections that he did…but he was confident that he did well on the survey. In the submission notes he added:
"I feel fairly certain that my accuracy is 100% or 0%, but I could live with 50% if I'm wrong. While I couldn't tell a difference in every section, I listened to each track and there were enough sections to convince me I could hear a consistent quality change. In these sections I could hear one or more of the following: a fuller low end, wider image, or more richness (usually for reverb tails). I also found this much more apparent in headphones."
I find it interesting that Ben didn't mention things like dynamic range or ultrasonic frequency extension. He focused on things that should be the same in both HD and CD versions. Others have reported similar findings. All acknowledged that it was "very difficult " to detect fidelity differences between the native high-resolution file and the downconverted Red Book track. And my student had specific tools, which allowed him to instantly switch between the two files. He looped small segments and turned up the volume.
The question of whether age plays a role in one's ability to select the high-resolution audio track is not supported by the data I've been able to view. Both statisticians concluded that age doesn't seem to improve your chances of detecting a difference. See below: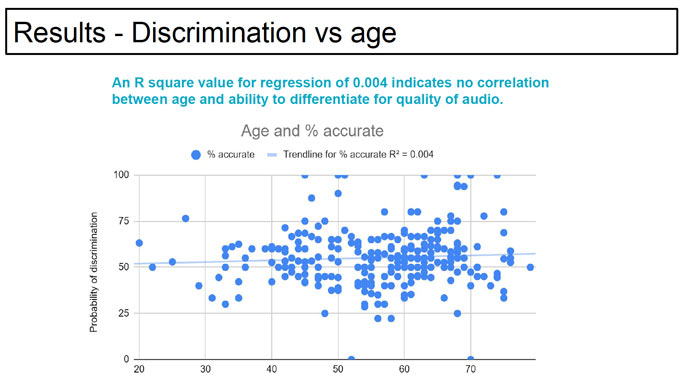 Here's another representation using roughly the same data set.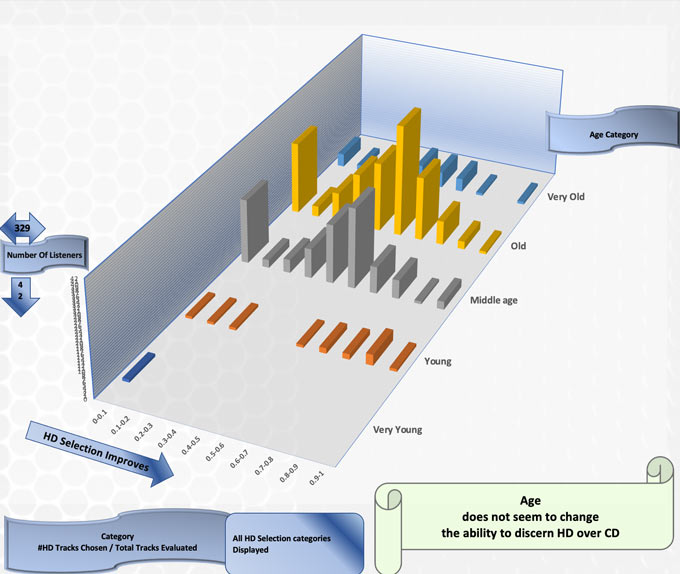 I'm receiving more submissions everyday but it seems unlikely the overall trends will change. I'll keep you posted. We've analyzed for equipment level and listening experience as well. It's all very interesting.
HDtracks Has A New Website
My friends Norman and David Chesky have been plugging away at the high-resolution download music business at HDtracks for over 10 years. I remember when I was getting ready to launch iTrax.com, which was the first high-resolution music download service, and I asked David whether he would consider making Chesky Records releases available on my new site. He told me that HDtracks was coming and it would include "hi-res audio" releases from all of the major labels. I was surprised since the catalogs of the major labels don't consist of high-resolution recordings…that didn't seem to matter.
They secured licensing deals — at great expense — and launched HDtracks back in 2008. And they've made a business of selling digital transfers at higher than CD specifications provided by the major labels. You can get a Mile Davis or Beatles analog derived recording from the 1960s at 192 kHz/24-bits and shell out $25 or so. I've downloaded a bunch of albums from HDtracks and find they sound about the same as the CD quality versions I have. Unless they've been specifically remastered for the HD release, the value proposition is questionable.
They've relaunched a completely new website. It represents a big investment I'm sure. It's very nice, had rich search options, and lots of metadata. I like it. But the promotional video featuring David includes a new tag line for HDtracks — "You Can Hear The Difference." I couldn't help but smile when I read it. After seeing that hundreds of audiophiles — their target market — CANNOT hear any differences between real HD-Audio files and CD versions, I doubt their new tag line will ring true.
I've always recommended that the high-resolution download sites — like HDtracks — market the albums they sell as "high-resolution transfers." It's more honest than claiming recordings from the 1960s are HD and it actually reflects what customers are purchasing. I even came up with a logo.
iTrax is Slowly Coming Online
I've been slowly but surely adding new albums to the iTrax.com high-res/surround music download site. There's about 20 albums up right now with more on the way. It takes a long time to connect all the dots, upload all of the files, and make sure all of the samples play correctly. I think the basic layout is solid but it's still problematic when customers try to download from the Amazon S3 cloud, where I've stored the zipped albums. I need to reach out to tech support at Amazon for help.
In the meantime, anyone interested in any AIX Records — not just the ones that are up at iTrax.com right now — just let me know. I've been uploading albums to my Google Drive and sharing folders on a one off basis. You can get any album in HD stereo, 5.1 "stage", or 5.1 "audience" mixes. Now that school is over, I'll be working on getting the entire AIX Records catalog AND all of the albums that I have from other labels that were originally on the iTrax.com site.
This Week's Favorite Album
Administrators of FB audio groups often prime the pump for their pages by asking, "which albums do you use to show off your system" or "which are your favorite 5.1 surround music albums?" Just this morning someone asked about where to find free high-resolution audio. The admin failed to mention AIX Records even thought I'm frequently comment on the page. So here on my own blog, I thought I would make a couple of recommendations for people seeking the very highest fidelity recordings AND music of substance.
The Latin Jazz Trio
I recorded this album in August of 2000 during the second sessions for AIX Records. It has proven to be one of my best sellers and remains one of my personal favorites. Featuring pianist David Garfield, bassist the late Dave Carpenter, and percussionist extraordinaire Luis Conte, the trio is the perfect balance of instrumentation and Latin flavored jazz. "Mujaka" or "Luisongo" are guaranteed crowdpleasers during any demo session I conduct.
Listen to the opening percussion solo in the video above. The real room reverberation brings life and energy to the sound in a way that digital reverb can't. And the richness of the 9-foot Steinway Model D piano in Zipper Auditorium is what a piano sounds like. Other amateur recording engineers have complained about my technique for close miking a piano, but the success in the the fidelity of the final product.
Check out The Latin Jazz Trio at: https://www.aixrecords.com/product/the-latin-jazz-trio/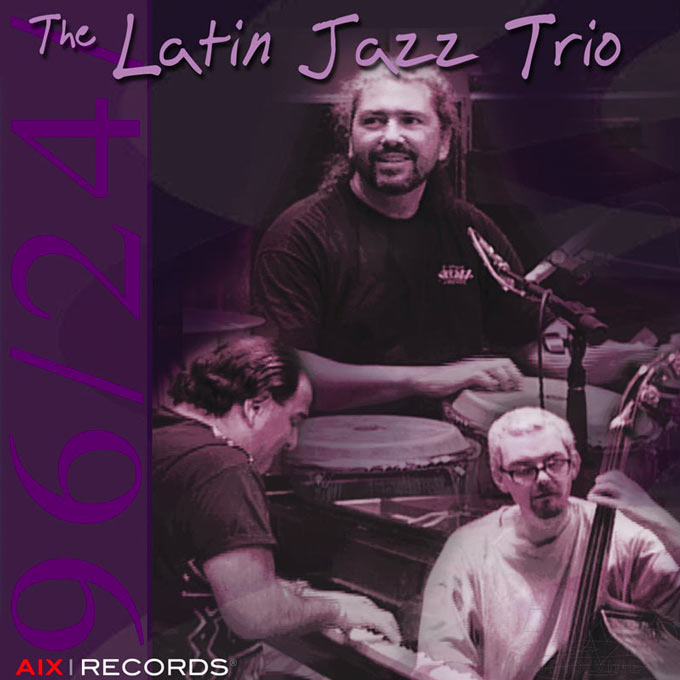 AIX Records and iTrax.com 30 Percent Discount Still Active
And don't forget that the 30% discount on all AIX Records and iTrax.com downloads is still in effect until the end of the month. Simply enter AIX30Percent during check out.