A Few Nice Things in Difficult Times…
The world has changed. Priorities have been reordered and difficult decisions are being made. It's a time to be concerned and vigilant. It's a time to recognize facts, acknowledge experts, listen and learn, and to all do our part as we move through a very challenging time without panic. With luck and hard work, worst case scenarios can be avoided or at least minimized and normal life will return. I've heard from colleagues, musicians, family, and friends as they adjust to the new reality. Many have been laid off, sent home without pay, and asked to wait out the pandemic at home. Uncertainly and hardship are happening now and leadership seems late to step up. I wish everyone the very best during this crisis.
My university has suspended all in person class meetings. In fact, the latest memo forbids old guys like me from showing up on campus – period! While the university officially "remains open", the students are not allowed to use the studios to work on their senior projects and evaluations typically done in the studios (the dreaded "board proficiency exam") have ceased. It remains unclear how the current crop of seniors will be able to graduate in May. The Dean informed me that plans are being made to delay the fall semester if the crisis extends through the summer. A rather harsh new normal.
I've been doing my lectures via video and can only hope that the students can success under this new paradigm. I've never taught an online course before. Although I'm finding it engaging to harness the very tools I teach in the preparation of each video lecture. Shooting video, recording using my iPad and new Apple pencil, doing simple editing, and adding titles and graphics. I pity the regular faculty who have no experience with multimedia and are struggling to use ZOOM to hold virtual classes.
A Quarantine Special
If you're like me, this period of isolation makes music all the more important. Listening to wonderful recordings of brilliant artists in your home can help reduce stress and calm our minds. So I'm offering a 30% discount on all AIX Records (discs and downloads) effective immediately in the hopes that you can find the right music. Use the COUPON Code AIX30Percent at check out to receive the discount.

Here are my recommendations for some great listening:
Dave Mason – EHX Demo Disc – Back in 2007, I was asked to secure the artist/band for the Entertainment Home Expo show in Long Beach, California. I reached out to Dave Mason. He lives in Ojai, just up the coast and agreed to bring his band and perform on Saturday evening. As part of the deal, he agreed to come to my favorite recording venue and perform a few of his hits acoustically with Jonathan McEuen. This demonstration disc is the result of those sessions. It's not an entire album of Dave Mason music but it does contain four of his biggest hits including World in Changes, We Just Disagree, and Feelin' Alright. I have about 20 copies of this amazing disc, which also contains tunes by John Gorka, Kamasi Washington, and the AIX All Star Band.
World In Changes – Dave Mason
---
John Gorka – The Gypsy Life – I never grow tired of listening to John Gorka's amazingly expressive baritone voice and his thoughtful, introspective songs. His artistry, his bandmates, the fidelity, and the video all perfectly in sync on this disc.
There are 19 songs on this Blu-ray disc…enough for long listen!
I Saw A Stranger With Your Hair – John Gorka
---
Mozart – Clarinet Quintet K. 581, Horn Quintet K. 407 & String Quartet K. 169 – The Old City String Quartet – This is one of best selling and best loved of the AIX Records classical titles. You simply can't go wrong with Mozart and these young graduates from the Curtis Institute have gone on to have major careers as the Dover Quartet. The sound is unlike anything you've ever experience — especially if you listen to the 5.1 "stage" perspective! The ensemble is in your living room. It's not wonder that Anthony Cordesman recommended it in his recent article for TAS.
Clarinet Quintet in A Major, K. 581 – Molto Allegro –

---
The HD-Audio Challenge II is Coming to and End Soon
The response to the HD-Audio Challenge has been overwhelming. Following the posting of my article at AudiophileReview.com (You can read it by clicking here), I received over a thousand new requests to participate. The numbers are encouraging and I expect to have over 300 submissions by the end of the month. Over 1500 people have requested the files. It would be incredible to have 500 submissions by the end of the month! If you haven't yet listened to the tracks, made your selections, and submitted your results using the online form (click here for the form), please do so in the next couple of weeks.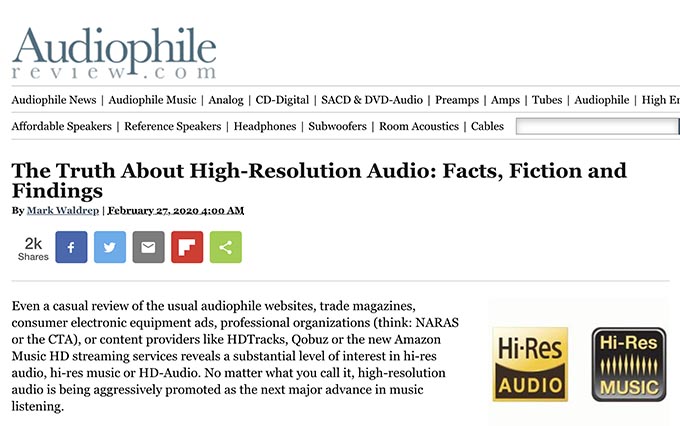 The HD-Audio survey is not intended to close the debate on whether "hi-res audio" or "hi-res music" provides increased fidelity to audiophiles at home. My hope is that future discussions will take into account the results gleaned from my survey. I will share the results in a few weeks AND will post which versions were the HD originals.
However, I can share that no one has correctly selected 20 out of 20. I did get one submission that got 100% but he only included a single track in his survey. He ignored the other 19. The chances of getting 100% correct when you only include one selection is 50/50. Not really the kind of involvement that I was hoping for. But I encourage everyone to see for themselves whether they can pick a bona fide high resolution file over a CD version of the same rocording.
A Few Fun Facts for Audiophiles…
If you spend any time reading posts by audiophiles on Facebook pages, advertorials by audio retailers, messaging from consumer electronics manufacturers, pitches by content companies/distributor, or articles by professional audio journalists, it shouldn't surprise you that accurate information is hard to come by. Everyone has an agenda. FB page administrators want more group members and likes, retailers want to sell you more stuff, CE companies want to convince you that their latest hardware will improve your listening, and magazines want their advertisers to keep paying for banner ads and buyer's guides. I like to think I don't have the same motivations but of course I do. I want to sell more discs, downloads, and books. However, my livelihood doesn't depend on selling stuff so maybe — just maybe — my recommendations carry more weight.
So I've compiled a short list of common myths. Take them or leave them as you will. They are ALL FALSE.
Analog is superior to digital – If we talk about the potential of analog recording, distribution formats (vinyl LPs and R+R tapes) vs. standard and high-res digital formats, the winner is clearly digital. The is no question here. Personal tastes and the experience aside, digital audio recording has the potential to beat the very best analog.
Hi-Res Audio is superior to Standard Res CD – I used to believe this and I still do for the production side of the equation. Many companies, labels, distributors, and writers still do. After reviewing hundreds of responses to the HD-Audio Challenge II, I know this is not true. Hi-res audio — even recordings made using HD equipment — is NOT perceptibly superior to the fidelity of a compact disc. The industry is lying to you.
Cables — analog or digital — should be used to "color" your sound – Cables are supposed to do nothing other than transmit signals from a source to a destination. Provided you use good quality (not necessarily expensive) cables that meet the minimum format specifications, analog and digital interconnects, power cords, and speaker cables DO NOT enhance the fidelity of reproduced sound. Nor do we want them to.
Cables are directional – No they are not. Anyone that makes this claim is full of baloney and/or trying to sell you something expensive.
MQA Isn't a Lossy Process and Produces Better Fidelity – According to their own patent application, the first step in the MQA process reduces the number of bits from 24 to 17 — thus it's lossy because you don't get those bit back. The whole MQA scheme is a dangerous hoax perpetrated by the inventors, their investors, and the record labels to make money for themselves — NOT improve fidelity for us.
Some Kind Words About AIX Records…
About two weeks ago, I got a call from Alan Kanter, the live sound engineer at McCabes, about an article written by Anthony Cordesman in the February edition of The Absolute Sound. The author, who has praised AIX Records in the past, singled us out again when discussing surround music recordings. You can read Using Your "Second System" For Surround Music by click the title.
He points out that among labels working in surround all are based in Europe and they work mostly in DSD. He states, "AIX is the only really active source of high-quality PCM and Blu-ray surround music I know of in the U.S."
Anthony suggests using your home theater to experience surround music. I think that's a good idea but there are some things to consider. First, the surround speakers in the typical home theater are likely to be dipoles or in wall/ceiling units instead of floor standing models identical to the front left and right. And most center speakers are laid horizontally. Again, this is not ideal for music reproduction.
If you look at the diagram in his article he shows an alternate location for the left and right "surround" speakers. The placement of the left and right surround at 150 degrees is associated with a 7.1 setup NOT the standard ITU 5.1 arrangement. The left and right speakers in a proper home theater should be between 110 and 120 degrees. The 150-155 degree position are reserved for a pair of left and right "rear surrounds".
Later in the same piece, Mr. Cordesman writes:
"As for PCM recordings, as well as other form of surround music, AIX is an American firm that has pioneered a lot of advanced work in surround sound. Most highlight immersive surround, but do so with realistic recording(s) of an actual immersive experience and often have both immersive and natural hall tracks. The AIX recordings will work with the growing number of AV receivers, players, and preamps that don't play SACD, and AIX offers a good assortment of different types of music. It also has two good demo discs to try. The AIX DVD Audio Disc has both an audio and a video side, test tones that allow you to compare stereo with MLP, Dolby and DTS 5.1 surround, and 96kHz/24-bit and 192kHz/24-bit tracks (NOTE: This is not true…the selections are limited to 96/24). AIX also has an Ultra HD-Audio 2017 sampler recorded with Dolby 5.1 (NOTE: There are also Dolby TrueHD lossless surround mixes) with both a stage and audience perspective, as well as a 96kHz/24-bit stereo mix—roughly three hours' worth of music if you listen to all of the mixes (NOTE: The disc lasts over 8 hours if you listen to each mix)."
"I also have to single out one of my favorites: An all-Mozart AIX Blu-ray with clarinet and horn quintets and a string quartet. It too has stage and audience surround and stereo, and has a live video of the young musicians doing the performance—something that truly makes the music come alive (Note: Virtually all AIX Records releases have video of the performances).
AIX has an assortment of immersive Blu-ray classical, jazz, and popular recordings that are easy to buy on its website and are of consistently high sound quality."