Devon Allman & Duane Betts:Fast Forward to Yesterday
I'm typing with one eye swollen shut on this rainy Super Bow Sunday. After having a suspicious, discolored, quarter-sized portion of skin removed from above the right corner of my right eye the previous week, I went back to the ophthalmologist to have the hole fixed on Friday afternoon. It's pretty amazing that the doctor was able to rotate a piece of skin from my temple into the open space. I'll spare you the gruesome photos, but I look like someone socked me in the eye — the whole area is black and blue. My temporary new face is so different than the old one that my new iPhone refused to open using facial recognition! My dermatologist is being overly cautious as melanoma runs in my family — my father died at age 43 from it — and I've had a number of areas removed from other areas of my body (much better to have a few scars than let it get loose). Things are all good but the whole experience was pretty stressful. I'll cover up my eye during my classes tomorrow. I wouldn't want my students to think I got beat up.
To many audiophiles, the holy grail of our obsessive hobby is to recreate the experience of a live concert. Seasoned readers already know that I don't believe that — I would much rather feel the intimacy of being very close to — and surrounded by — the performers. My productions reflect what I prefer. Many listeners feel that they rival the experience of a live performance. My personal taste notwithstanding, recreating the sound of a live performance is considered a baseline for many audiophiles and reviewers.
But is the "sound" or "fidelity" of a live concert actually worthy of reproducing in you living room or home theater. Based on my experience aboard the Norwegian Cruise Lines "Pearl", I would categorically say no! I attended over 20 performances during my week aboard the "Southern Rock" cruise. There were intimate performances by Tommy Townsend and Hal Bruce and full out concerts by Lynyrd Skynyrd, Molly Hachet, and The Kentucky Headhunters — and just about everything in between. With virtually no exceptions, I had hearing protection during every one of them. The unattenuated sound blasting from the mammoth sound systems and subwoofer cabinets was dangerously loud and piercingly harsh. And no, this assessment is not because my tastes favor more acoustic music and I don't like loud music — I've turned up my system beyond reasonable many times. Just ask my wife or the neighbors.
The sound pressure level coming from two large columns on either side of the stage and the side by side subwoofers was intolerable and IMHO dangerous. Maybe the audience was numbed by the $600,000 worth of alcohol they purchased during the week but I fail to see the enjoyment in hearing the reverberations of the concert long past it ended. Certainly, this is not the goal of recreating a performance at home.
I've heard incredible live performances AND amazing live recordings — I know that it's possible to bring a great artist into your listening area. But loud isn't necessarily better. Music can make its impact without permanently injuring your ears. In reality, music should have nuances and subtle variations of dynamics. However, live music like most commercial releases — is heavily processed and lacks these things.
There was only one of the on board concerts in the main hall when I felt the level was acceptable. And it was the best concert of the entire "Southern Rock" cruise, which almost didn't happen. Devon Allman and his special guest Duane Betts were last minute replacements for The Dicky Betts Band. Dicky, one of the original members of The Allman Brothers Band and was responsible for a number of their hits — like my favorite "Blue Sky", suffered a stroke back in August and had to cancel his participation on the "Southern Rock" cruise. The operators scrambled and booked Devon and Duane as his replacement.
Greg Allman is Devon's father and Dickey Betts is Duane father. You can pretty much guess how their careers came about. I listened to them being interviewed and attended both of their concerts. They played a great mix of Allman Brothers songs and a bunch from their own upcoming album (which was recorded in Muscle Shoals using 2″ analog tape!). For an old guy like me, it was a flashback to my first listen of "Eat A Peach" in Ann Arbor, Michigan my first year of college. They were great — but I still wouldn't want the sound of their concert in my living room!
I had the chance to briefly chat with both Devon and Duane about my production of The Allman Brothers Band DVD "Live at the Beacon Theater" (for which I received a Gold DVD) and their 2003 release on Sanctuary Records "Hittin' the Note". They were very gracious but not interested in a 5.1 surround mix of their new project — I tried.
So let's abandon the notion that live concerts or performances represent the finest music has to offer. Live sound is always amplified (even jazz and classical gets power in large venues) through compromised PA systems. Well recorded music at home bests that every time.
++++++++++++++++++++++++++++++++++++++++++++++++++++++++++++++++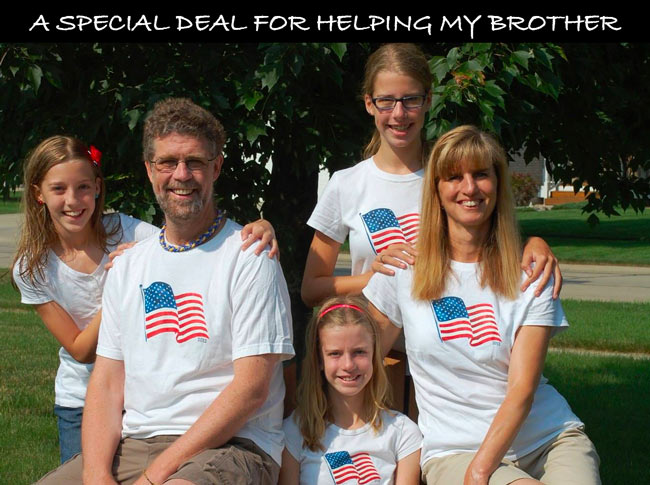 My younger brother is in need of some help. This isn't the place or platform to relate the details of his current situation but I know some of you might consider making a contribution to the GoFundMe campaign I started for him once you read the narrative I authored.
I wouldn't make this appeal if I didn't feel his circumstance was compelling and the person worthy. If you want to read more, please click the link below and consider making a contribution.
To thank anyone that makes a donation of $100 or more, I will send a signed copy of my "Music and Audio: A User Guide to Better Sound" (with Blu-ray Demo disc) AND a FREE copy of the latest AIX Records sampler— a $25 value. If you contribute $50 – $100, I'll send the eBook, downloadable files, and the AIX sampler. Finally, for a donation of $25 – $50, you'll receive the eBook and demo files.
I will cover all shipping expenses for domestic orders. International shipping will be additional.
Click here to be taken to the GoFundMe page.
Please do not share this link. Thanks for your consideration.