Infinity Audio and Beyond…
A very common myth about analog vs. digital audio is that analog is infinite in its resolution and digital is not. I heard this during a brief phone call with a customer the other day and had to write a post on the topic.
Yes, it's true that the groove in a vinyl LP moves back and forth (actually the two sides of the stereo walls move up and down as well…but that's a topic for another post). It is a physical representation of the actual waveform that is the music. This is an "analog" of the undulations that all sound is comprised of. And it's amazing to see up close and personal. Check out what a record groove looks like through an electron scanning microscope. These images were prepared by Chris Supranowitz, who is a researcher at The Institute of Optics at the University of Rochester.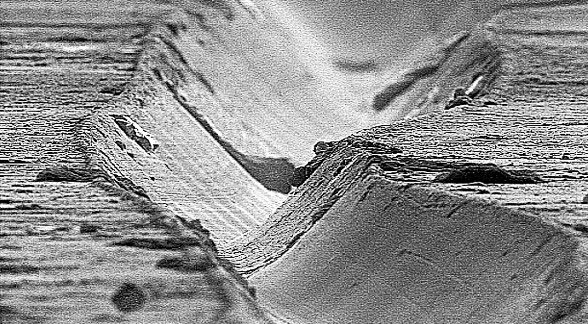 Figure 1 – The groove of a vinyl LP magnified 1000 times. Notice the dust particles and the "rough" surface of the walls of the groove.
The myth of "infinite" resolution equating to great fidelity is problematic. Every analog system suffers from varying amounts of noise, distortions, speed inaccuracies and frequency limitations. Analog tape, for example, is a much heralded format that was the mainstay recording format for decades before giving way to digital systems. The best engineering minds on the planet acknowledge that analog tape is subject to a variety of noise types including: background noise, modulation noise, tape vibration noise, amplitude modulation noise, tape irregularities, drop-out noise and other maladies. Does this make analog untenable as a recording or delivery format? Of course not! But just because it's an analog format with supposedly "infinite" resolution doesn't make it immune from real world engineering difficulties.
Of course, digital has its own set of challenges. But one of those challenges is not that it is a discrete digital system for capturing the information needed to recreate a completely new waveform at the time of reproduction. Analog recorders store a physical or magnetic representation of the sound and digital stores the "blueprints" needed to rebuild the sound during playback. It is very easy to show that the intermediate digital storage with all of its samples and amplitude values can be reassembled into a smooth "infinite" analog waveform that replicates the original waveform with greater precision than the finest analog tape deck or cartridge, tone arm and turntable. This "infinite" resolution business is just a myth.