Sony and Foo Fighters Partner to Promote Hi-Res Audio
This press release came across my feed yesterday. You can read it for yourself by click here. If you go to the Sony Official News Page you'll see the JAS Hi-Res Audio logo and a small picture of the band. So far so good, right?
According to the press release, Foo Fighters and Sony have teamed and will be "Bringing premium quality Hi-Res music experiences to music lovers the world over." I admit I'm a fan of Foo Fighters. I think Dave Grohl is an amazing musician, producer, and genuinely cares about the sound of the band's productions. In fact, I know he does.
The comment from Foo Fighters states:
"Preserving the human element in the recording of music has been a huge part of Foo Fighters' mission and our commitment to High Resolution Audio is a major part of this. We've always wanted the flesh and blood and emotion of our songs to get through to every listener and Hi-Res Audio is the best way for our fans to hear the music as we want them to hear it: in its purest quality and truest form."
Sony will be engaging in various marketing initiatives aimed at further promoting Foo Fighters and Hi-Res Audio, leveraging the power of Hi-Res Foo Fighters songs worldwide, including in Japan, the US, Europe, Latin America, and Asia.
Sony has been leading the way in High-Res Audio over the past few years. I may disagree with their focus on the DSD format but I am very pleased that they are partnering with creatives to ensure that we get the best fidelity from our favorite bands. The original master tapes of Foo Fighters 1995 debut album are going to be made available in higher resolution PCM bit buckets. I would call these "high-res transfers" because they represent the original masters as the artist intended. We're getting high-resolution PCM digital copies of the source masters.
Bravo to Sony and the band. But the message of the press release also carries a confusing and contradictory message. Sony is a hardware company. They were the ones behind the gold and brown Hi-Res Audio logo…the one that was given to the JAS (Japan Audio Society) and then offered to US companies through the CEA. The one displayed on the press release. The one that refers to hardware ONLY. The headline should then be read as a partnership on the new Sony Hi-Res Audio hardware products. The idea of "bringing premium quality Hi-Res music experiences" would involve the new RIAA logo, right?
Foo Fighters have a strong commitment to "High-Resolution Audio" but what about the production of "High-Resolution Music".
The third paragraph of the release describes it this way, "Hi-Res Audio – a format which faithfully reproduces the original recording, and enables users to enjoy music the way the artists truly intended." More confusion as I read it. HRA is not a format at all. It's a descriptive label that identifies hardware components that meet a rigid set of requirements…essentially 96 kHz/24-bit PCM and input and output to 40 kHz. But it only applies to hardware as I've read and been told.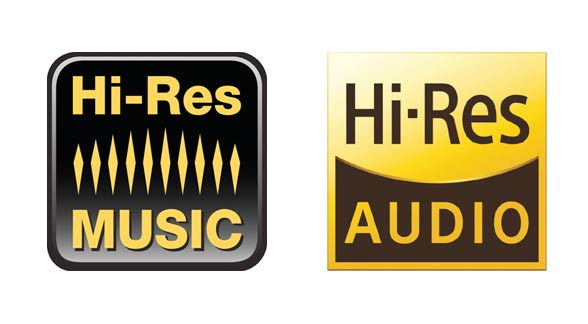 Figure 1 – The two logos for high-res audio and music.
But wait a minute, last December 18th the CEA issued its own press release announcing their collaboration with the JAS on "High-Res Audio Promotions". The opening sentence states:
"The Consumer Electronics Association (CEA)® and the Japan Audio Society (JAS) today announced a new partnership to help promote and support the marketplace growth of High-Resolution Audio (Hi-Res Audio or HRA) devices and content."
So maybe content is included?
And now we have two logos. One that applies a strict set of technical requirements to hardware…except when it applies to content with "better than CD specs" (except when the source is a CD itself!). And let's not forget that the RIAA introduced a new logo that will be associated exclusively with content…the hi-res music. Isn't that what Foo Fighters are creating?
It just doesn't seem to me that everyone is on the same page. Is it really that difficult to decide on a single logo, a single definition, a single message, and have everyone promote it? Apparently not.