Nine Ways to Love (and profit from) The CD! Part II
The Redbook specification rules everything to do with compact discs. It established the physical attributes, the electrical requirements and the data protocols. It defines the audio as PCM at 44.1 kHz sample rate and 16-bit linear words…giving 22.050 kHz as the Nyquist or maximum allowable frequency and 96 (the theoretical limits for dynamic range…the actual is 93 dB due to dither). However, it doesn't say anything about how the digital data is prepared prior to mastering OR that you must use polycarbonate as the material in the disc.
So if there is greater value associated with a CD release mastered by Steve Hoffman or one that is burned or replicated on a Gold sputtered disc then perhaps the higher prices charged for these discs might be reasonable. But to think that the fidelity will be inherently better on one of these specialized "flavors" is ridiculous. All you can get out of 44.1 kHz/16-bits is established by the final encoding format.
A K2 CD is prepared using a process that raises the sample rate and word length during the pre-mastering process. Let's say you wanted a Chet Baker K2 CD made from the best analog tape you could find. During the transfer to PCM digital, the K2 HD pre-mastering system comes into play. The engineers use a more rigorous process, some juiced up equipment with higher sample rates and longer words and then master a really good CD…but it's still a CD. So the advertising/marketing claims of "100 kHz bandwidth and 24-bit high-resolution" information on a CD are completely false. If a K2 HD CD did actually deliver those kinds of specs it wouldn't be a compact disc anymore because it didn't follow the specification.
Here's the graphic that describes the K2 HD process: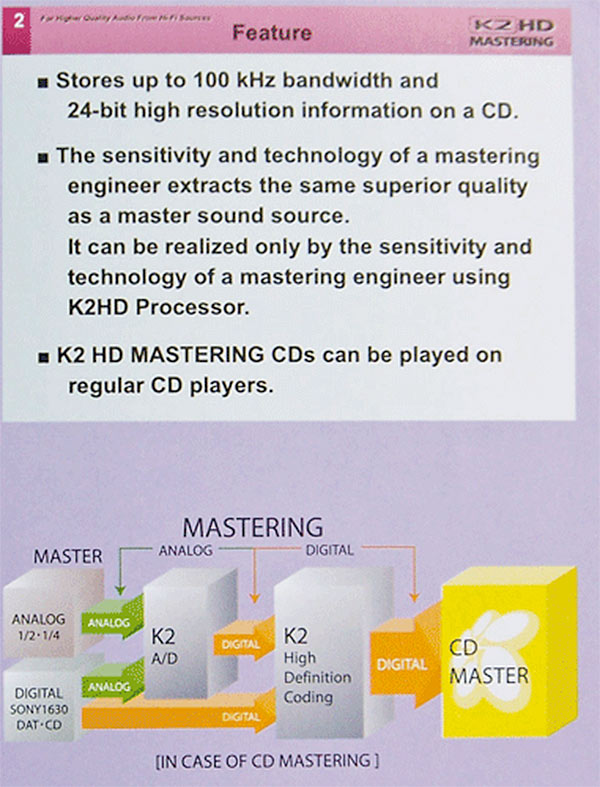 Figure 1 – A promotional piece about the K2 HD Mastering Process.
I certainly endorse and even applaud doing the very best mastering job with the very best equipment available but have to drawn the line when the marketing and promotions people get into the act. Someone would have to show me how you can get 100 kHz of bandwidth and 24-bit high-resolution information on a CD…it's impossible. But consumers read a bunch of positive testimonials or audiophile magazines give the process a thumbs up and consumers begin to believe that FIM has figured out how to squeeze more fidelity out of CD than Sony or Phillips, the people that invented the format. Save your money.
The same thinking applies to the rest of the "premium CD" flavors that are advertised around the web. I've written about XRCDs previously (click here to read my post) so I won't spend more time and more words repeating myself here. These are very good CDs but any improvement in their sound comes from the mastering or better sources…not some special treatment during the replication. Again, save your money.
The last item on the list did catch my attention. This was a new one to me…the DXD CD, which makes about as much sense as designing and selling a new DAC with 768 kHz and 48-bit fidelity…and then playing CDs through it…or building it at all. Here's the promotional line from the Australian website:
"Digital eXtreme Definition (DXD) is an audio encoding scheme that was developed for editing high-resolution recordings because DSD, the audio standard used on Super Audio CD is not ideally suited for editing. DXD is a PCM-like signal with 24-bit resolution sampled at 352.8 kHz – eight times 44.1 kHz, the sampling frequency of Red Book CD. The data rate is 11.2896 Mbit/s – four times that of DSD!
FIM/LIM DXD CDs have taken this a step further to bring you closer to the source. Instead of making two or more sample rate conversions as with SACD, FIM/LIM recorded the source in DXD! The data rate for a DXD mono signal is 8467.2MHz, or more than 3X the data rate of a typical SACD! Experience the closest you can get to the original performance in the comfort of your home!"
"Super High Definition format: Digital eXtreme Definition 24-bit 352.8kHz CD! Playable on all CD players!"
If it's playable on "all CD Players", then it doesn't have 352.8 kHz or 24-bits!