DXD: PCM at 352.8 and 24-bits?
I was sitting at the breakfast table this morning and reading the most recent issue of Mix magazine, one of the premier magazines for audio professionals. It's a slick magazine now but I can remember reading it in the 70s when it was printed on newsprint. The article on the last page was all about timing and its importance in the world of record production and audio engineering. The author wrote about hearing some tracks recorded in DXD through DAD converters running at 352.8 kHz and 24-bits. It got me thinking about my previous post and the response that I received from Claude Cellier, one of the principals at Merging Technologies, the company behind the Pyramix DAW used to record the example I tested.
Claude and I exchanged a couple of emails last fall when I authored the first post about DXD (you can review it by clicking here). He answered a number of questions I had about the DXD format, which I found very helpful and informative.
He began by explaining the reason why "extreme PCM" was developed. According to his email of last October, it was to allow the recording, editing, mixing, processing and mastering of content for the DSD portion of SACD programs in the best quality possible. So by this logic, the best quality possible for SACD (using DSD) is to record using "extreme PCM" and then downconvert to DSD 64 for inclusion on an SACD disc. Very curious.
He continued, that it was not so much about extending the frequency response but to benefit from very relaxed anti-aliasing filters, which provides extremely good transient response. This approach attenuates pre- and post-ringing due to the Analog to Digital as well as the Digital to Analog conversion processes.
So DXD was developed and is in use to facilitate the preparation of very high-quality sound intended for release in DSD. The focus is on "in band" sonic accuracy as is typical of DSD.
Last fall, I analyzed a DXD file that I downloaded and found that there was a gentle rise in high frequency noise above 50 kHz. It looked a lot like the noise that I've observed when evaluating DSD files…only this time it started at 50 kHz and was somewhat more gentle than the usual DSD curves.
Claude informed me that the noise was due to the AD converters and not inherent in the DXD format or his workstation. It made sense. He shared a plot that compared some converters and sure enough, some of them generate a lot of noise up there. He also informed me that newer and better converters would take care of this problem. Never mind that there aren't any microphones that can produce output above 50 kHz.
So this morning I downloaded another DXD file, a more recent recording and decided to take a look at the spectra of both the DXD and the 96 kHz versions to see if the errant noise had been eliminated. Here's the plot that I produced: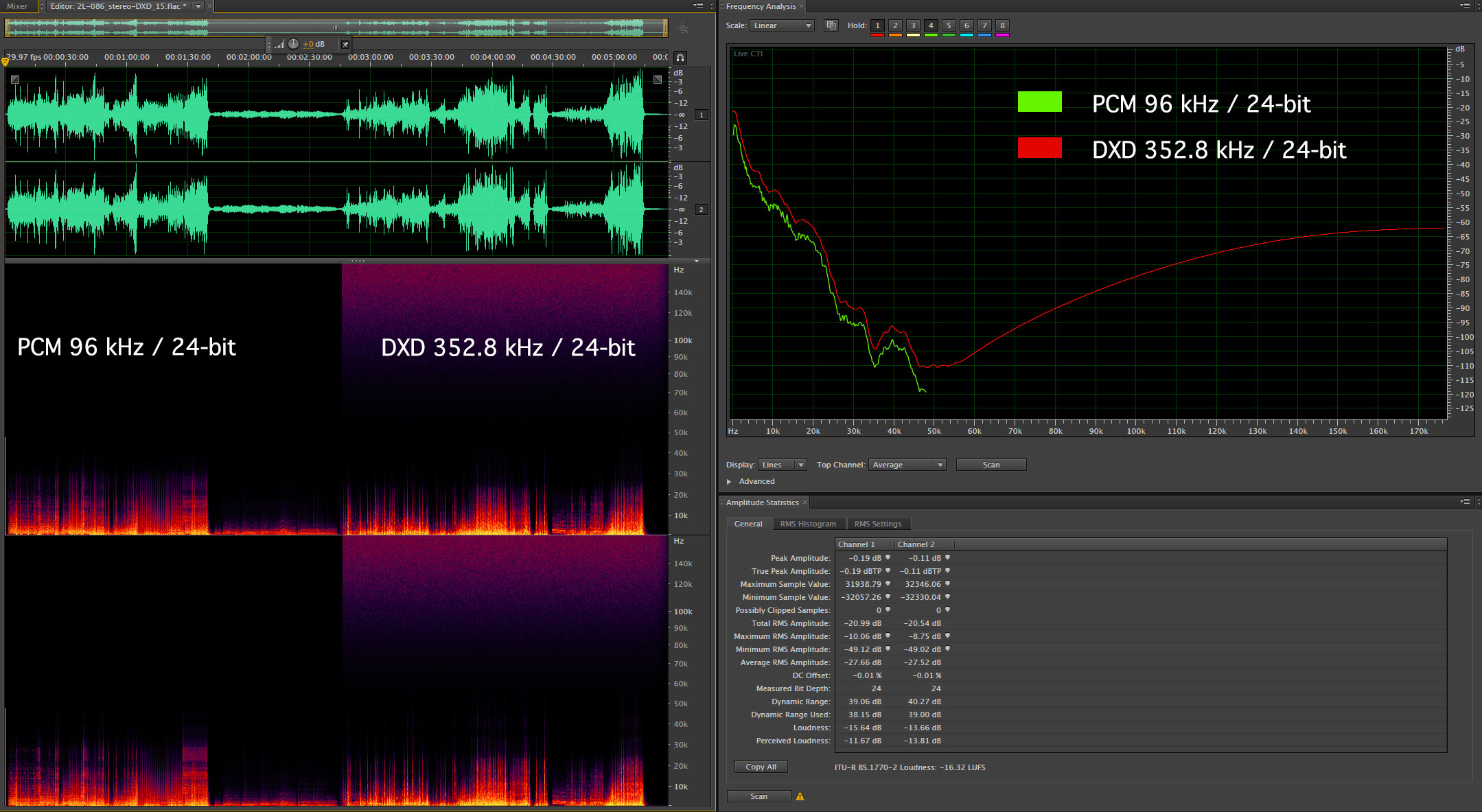 Figure 1 – A spectrogram of a DXD sourced recording and the downconversion to 96 kHz/24-bit PCM. The left hand plot is the PCM version and the right side is the original recording at DXD 352.8 kHz. [Click to enlarge]
This is not what I expected to see. With the new Horus converters, I was told that the ultrasonic noise would disappear. It hasn't.
As you know, I'm headed to the T.H.E Show Newport Beach this weekend. Undoubtedly, there will be another "DSD Love Fest" on a couple of panel discussions. As DXD is the "production workflow solution" for DSD for those interested in staying the digital domain, I thought it would be interesting to take a close look at the production process that all new DSD recordings go through before release. DXD (or "extreme PCM") is the solution to the problems inherent in DSD…yet it delivers the same fidelity as a 96 kHz/24-bit PCM recording (with appropriate care taken to reduce all digital artifacts…i.e. apodizing filters to remove pre-ringing for example).
And the PCM files are much smaller. Check out this graphic from Cookie's Blue Coast Records site. Never mind that it seems to imply that fidelity is larger as well with DSD files…it's not.
Figure 2 – A chart from the Blue Coast Records site showing the relative sizes of various types of sound files. Notice that DSD 2.8 (or DSD 64) is larger than a PCM 96/24 file. [Click to enlarge]
Why would anyone want to download a file that consists of 50% noise? And it's noise that you can't hear but could affect your electronics. Why not use the minimal amount of bandwidth and storage space to get the best possible fidelity?
I'll attend the panel entitled, "DSD Progress Report: In the Studio – Online – In the Home" to see what's new in the world of DSD. It's a very big panel and populated with hardcore DSD proponents. Stay tuned for a full report very soon.