Provenance, Pricing, PCM, and Profits!
I received an email from a long time reader this morning asking my thoughts about the album "The Ocean's Breath – by Quo Continuum" a new project offered by Blue Coast Music featuring label owner, producer, engineer, and musician, Cookie Marenco. I have very high regard for Cookie and her releases — I consider her a friend and colleague in the high-end audio world. Her productions are excellent and worthy of consideration by anyone looking for reference material. She's an accomplished producer and engineer, successful audiophile label owner, musician, and strong advocate for the DSD format.
The reader expressed a great deal of confusion about the provenance of the album. He wrote:
"Found a good one for you that has me very confused. It comes from Blue Coast Music and is for one of their latest albums. I am interested in buying it and always look for the resolution and format an album is recorded in and try to get the closest matching (i.e. least messed around with) format. So in the bottom right there is a box labelled provenance and it says the following: Recorded in 48kHz PCM and mixed through analog console to DSD256. So, in my mind I am looking for a 48kHz PCM file as the "original" but the DSD256 is confusing me because if they directly analog recorded it to DSD256 (a very tricky thing to do) that would be the "original" but then the 48kHz PCM makes zero sense. I am not sure what they actually did as it is so contradictory."
So the question is — what can a purchaser expect in terms of fidelity for this new album? Is it the ultimate fidelity established by mix capture at DSD 256? Or perhaps the fidelity was locked in during the initial capture at 48 kHz PCM (there is no mention of bit depth in the "PROVENANCE" section of the page)?
Bigger Numbers – Bigger Price?
And making the decision even tougher is the pricing variables offered on the same page. This mornings email inquired about the format/pricing matrix as well
"Now to make things really complicated here is what is actually for sale in the download formats:
WAV – 16bit/44.1kHz – $15 (so CD quality but definitely format converted and not from an even multiple so not the greatest choice)
WAV – 24bit/96kHz – $20 (so better quality and at least an even multiple of 48 but why would I pay for more than was recorded?)
FLAC – 24bit/96kHz – $20 (I assume this is the same as the above file just converted to flac so I would get this because the metadata is likely already embedded which makes it easier to handle)
DSD64 (2.8Mhz) – $30 (not sure how this one came about but looks like a downsample of the DSD256 conversion from the 48kHz PCM recording – whoa!)
DSD128 (5.6Mhz) – $40 (same as above only even more expensive and only downsampled by a factor of 2 instead of 4 for whatever that is worth)
DSD256 (11.2Mhz) – $50 (if this album was recorded live using an analog mixer directly to DSD256 then this is the "original" but it doesn't sound like it was. Are you kidding me $50 for an album!!!)
WTF! I am interested in this album but could they make it more confusing as to what format to buy? I appreciate that they want to "help" by putting the provenance there but that actually makes it more confusing. Looks like the 24bit/96kHz is likely the best choice."
It's interesting that the resolution of the original master — 48 kHz PCM (is it 24-bits?) — as indicated in the provenance section of the first image above is NOT even offered for purchase! Why? Because the album went through a few unnecessary conversions from multitrack master to final mixdown. I don't know if Cookie prefers to mix through her analog console because she likes the "sound" of it (a perfectly valid choice) or whether her studio lacks digital mixing capability, but converting the multitrack master from 48 kHz PCM to analog in order to mix the project in analog and then re-digitizing the output at DSD 256 means the final master has gone through a couple of unnecessary conversions. And remember each time an audio signal is converted from digital to analog or the other way around fidelity is lost. I imagine that Cookie is also using digital reverb (PCM format) in her productions, which adds another couple of conversions — at least for the reverb heard on the album.
The truth is that Cookie's recordings sound great because of her sensitivity to mic placement, the layout of her studio, and her production philosophy NOT because they are upconverted to DSD! I'm unwilling to spend the money necessary to download and compare the quad rate DSD version to the 44.1 kHz/16-bit version but I'm pretty confident that I would prefer the one at the original resolution. And while I applaud her inclusion of the "provenance (a term that I first applied to high-resolution music in 2000)" for the project, I find it a little disingenuous — and confusing — to charge more than 300% more for an upconverted DSD256 file. The fidelity of this album was locked in during the original capture at 48 kHz! The irrational belief that anything offered in DSD is worth more is "fake news" to use the parlance of the times.
Other labels and services do essentially the same thing — stuffing standard-resolution music in high-resolution containers in the hopes that people will pay higher prices, purchase new equipment, and rave about their new found fidelity. We should know better by now.
My friend Morten Lynberg, owner and chief engineer at 2L, works the other way around. He starts with ultra high-resolution DXD (PCM at 352.4 kHz/24-bits) and then offers a variety of formats and resolutions derived from the high-resolution master. He downconverts to PCM and DSD — but still charges more for DSD!
++++++++++++++++++++++++++++++++++++++++++++++++++++++++++++++++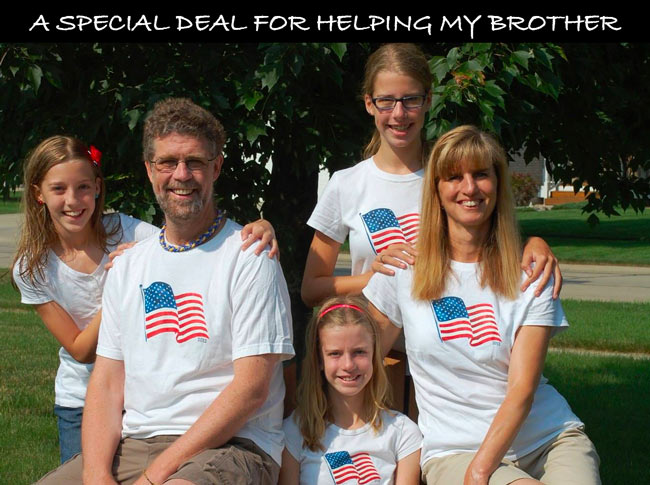 My younger brother is in need of some help. This isn't the place or platform to relate the details of his current situation but I know some of you might consider making a contribution to the GoFundMe campaign I started for him once you read the narrative I wrote. In fact, since I posted this a couple of weeks ago, readers have given generously. Together we've raised over $3200! I can't thank you enough.
I wouldn't make this appeal if I didn't feel his circumstance was compelling and my younger brother very worthy. If you want to read more, please click the link below — and please consider making a contribution.
To thank anyone that makes a donation of $100 or more, I will send a signed copy of my "Music and Audio: A User Guide to Better Sound" (with Blu-ray Demo disc) AND a FREE copy of the latest AIX Records sampler— a $25 value. If you contribute $50 – $100, I'll send the eBook, downloadable files, and the AIX sampler. Finally, for a donation of $25 – $50, you'll receive the eBook and demo files.
I will cover all shipping expenses for domestic orders. International shipping will be additional.
Click here to be taken to the GoFundMe page.
Please do not share this link. Thanks for your consideration. And thanks to those that have generously contributed to the GoFundMe campaign!