A Power Cable Reality Check
I know, I know. Talking about cables is a sure fire way to start a protracted — and unruly — discussion among audiophiles. The subjectivists write flowery prosaic descriptions while those of use who prefer to trust facts and science report the science and move on. That regular posts about cables continue to appear on various Facebook audiophile group pages shows just how unsettled the topic remains among the uninformed. Yet here I am writing another blog on cables — power cables — to be exact. Is there really anything left to be said?
The catalyst in this instance is a recent review I read over at Positive Feedback, a site that features the motto "A Creative Forum for the Audio Arts" — creativity being the key word in that phrase. My reaction to many of the articles/reviews I've found on this site confirms their tilt towards the creative with a total disregard for the facts. But it was the review of the Cardas Audio Clear Beyond Power XL cable that eclipsed anything I've read for quiet a while. And guess who authored the review? The same gentleman that booted me from the Los Angeles and Orange County Audio Society last year because I dared challenge his unwavering support for the myth of power cables with documentary proof during a meeting here in SoCal! Click here if you would like to read that very popular post. More about his ridiculous review in a moment…
A few days ago I had to remove my Oppo BDP-203 from the rack and I happened to notice that it had a couple of screws bouncing around inside. As a former electronics technician and builder of more than my share of HeathKit products (receivers, guitar and amplifier, test equipment etc.), I've always enjoyed peeking inside audio gear. I've done a few mods on another Oppo player and a power amplifier in the past, so simply removing a few screws would be a piece of cake. However, inspired as I was from reading Bob Levi's effusive prose in the PF review ("A liquid elegance and fleshy musical beauty emerged from a previous coolness and thinness."), I decided to take a look — and some photographs — at the cabling inside the IEC power connector on the rear panel of the Oppo. See below: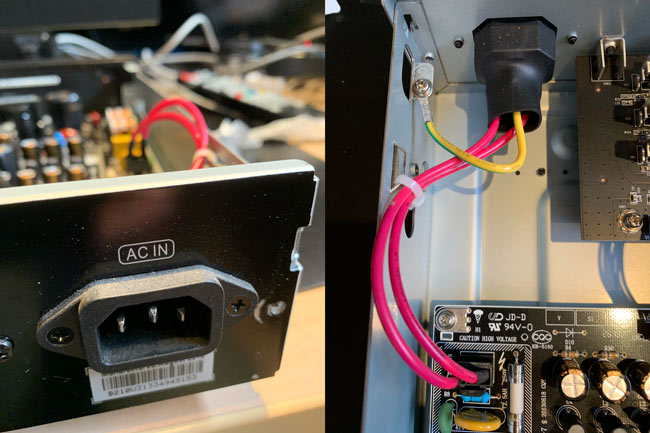 I've been through this exercise before but let me restate the facts once again. The power reaching your duplex outlets comes through your home wiring through 12 or 14 gauge copper Romex wire depending on the amperage required (usually 20 or 15 amps) and costs about $.22 per foot. And inside your equipment is more 12 or 14 gauge stranded wire — generic wire that probably costs about the same. Designers of expensive IEC power cords would like you to believe that the 6 foot piece of cable they sell you which may contain "hundreds of the purest copper strands, each and every strand is coated with single poly nylon and only touch each other electrically at the final connection point" is going to magically transform the analog — or digital — signals passing between your components. For someone to claim that power cords "often make extraordinary differences" in the fidelity of your system is like saying that delivering that cord in a velvet bag inside of custom crafted box with dovetail joints has an impact on the sound! It's just crazy! And anyone that would write such a thing and any website that would publish it should have their "bona fides" revoked. I know I wouldn't trust anyone that would write something so ridiculous — and easy to prove incorrect.
That's what I did with a very expensive power cord that a gentleman sent me some years ago. I used the regular IEC power cord recommended by my friends at Benchmark with their DAC 2 HGC and then swapped it out for the $3000 cord, which did come in a velvet bag inside a wooden box. I captured the analog output when using both cables and did a null comparison. To the utter amazement of the vendor in Atlanta, they both produced exactly the same output. Now some high-end audio manufacturers would have you believe that if two signals are identical that they could produce different sonic signatures — but that's also utter nonsense!
I guess if you've got an extra $3000 dollars that's burning whole in your pocket then throwing it away on a single 6-foot power cord is up to you. But if improving the fidelity of your system is among your priorities, then save your money and ignore the recommendations of people like Bob H. Levi and websites like Positive Feedback.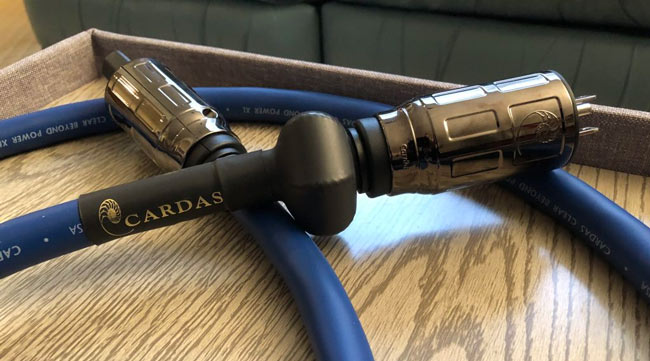 Feel free to read the review yourself. Every paragraph contains prime examples of why audiophile "experts" are not always the best sources of information and why audiophiles as reviewers is also not a good idea. Here's a few gems from the review:
"Top-tier power cords are the best way to tweak a state-of-the-art system for maximum realism and definition. After tube rolling, cable selection and matching, suspension tuning, final equipment selections, speaker adjustments, and room acoustics, you may not quite have that timbral naturalness and background blackness that brings the system to life. For that final adjustment, try different power cords to bring out those important nuances".
It's actually hard to read paragraphs like the above without laughing out loud — yet many audiophiles accept these fantasies as facts.
"The Cardas Audio Clear Beyond Power XL in combination with the V12 Amplifier yielded one of those unforgettable, you-have-got-to-be-kidding-me moments an audiophile never forgets! The XL was easily 25% more detailed, produced a blacker background, was smoother than my already smooth reference, and captured timbral realism beyond my ability to describe in English. Like the fictional Red Violin, maybe George has captured DNA and infused it into this power cord such that it reveals not just a great recording, but a great performance just a few feet in front of you. I had to remind myself, this was just a power cord change, not an additional super widget component. The resulting system improvement in realism and mellifluousness with just one Cardas Audio Clear Beyond Power XL was fantastic and unassailable".
One final anecdote before I post this blog. Before I was kicked out of the LA & OC Audiophile Society (for telling the truth about cables!), I attended one of their regular monthly events. Bob was always very kind to allow me to sell my book (Music and Audio: A User Guide To Better Sound) during meetings. He even gave it a very positive review but I'm guessing he didn't read the chapter on cables. Anyway, a local vendor was doing an A|B comparison. He was elevating the hard drive attached to his laptop with an isolation pad ($250) between playing back the same digital music selection. He went back and forth a couple of times to make sure everyone could hear the difference (there was none!). I was sitting close to Bob along one side of the ballroom and heard him announce to a couple other members of the society what a huge improvement he experienced with the isolation pad in place. Only he made that pronouncement when the pad was removed NOT in place — he got it exactly reversed.
My father once taught me that integrity is something that is very difficult to establish — but very easy to lose. How much integrity is present in audiophile reviews? From my perspective — not very much.
++++++++++++++++++++++++++++++++++++++++++++++++++++++++++++++++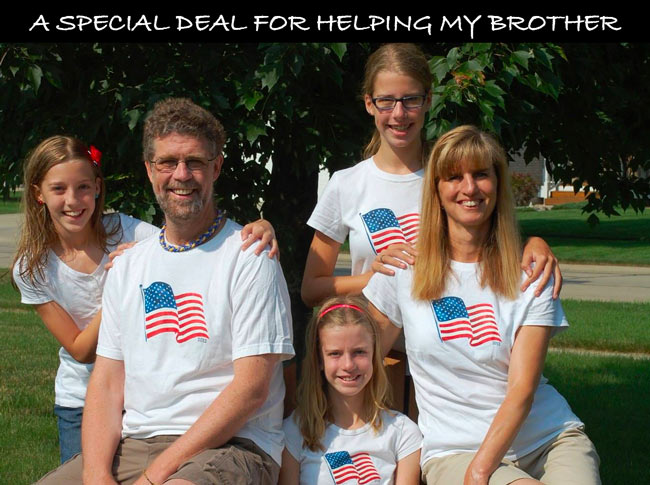 My younger brother is in need of some help. This isn't the place or platform to relate the details of his current situation but I know some of you might consider making a contribution to the GoFundMe campaign I started for him once you read the narrative I authored. In fact, since I posted this a week ago, many readers have given generously…thank you!
I wouldn't make this appeal if I didn't feel his circumstance was compelling and the person worthy. If you want to read more, please click the link below and consider making a contribution.
To thank anyone that makes a donation of $100 or more, I will send a signed copy of my "Music and Audio: A User Guide to Better Sound" (with Blu-ray Demo disc) AND a FREE copy of the latest AIX Records sampler— a $25 value. If you contribute $50 – $100, I'll send the eBook, downloadable files, and the AIX sampler. Finally, for a donation of $25 – $50, you'll receive the eBook and demo files.
I will cover all shipping expenses for domestic orders. International shipping will be additional.
Click here to be taken to the GoFundMe page.
Please do not share this link. Thanks for your consideration. And thanks to those that have generously contributed to the GoFundMe campaign!