A Weekend In London With YARRA 3DX!
What could be better than a quick trip to London? Last weekend, Mona and I made a quick trip to the British capitol to demonstrate the YARRA 3DX 3D audio sound bar to potential partners AND celebrate my wife's birthday (and our 36th wedding anniversary). I arranged the last minute trip at the urging of a very close friend, Richard Bron — music industry veteran and technology expert. Knowing that it's impossible to talk about immersive sound coming from a small, inexpensive sound bar, Richard suggested that I come to his home in Northwest London and demo the system for him and several others. We booked tickets on New Zealand Airlines and left late on Wednesday afternoon after my university commitments were finished for the week.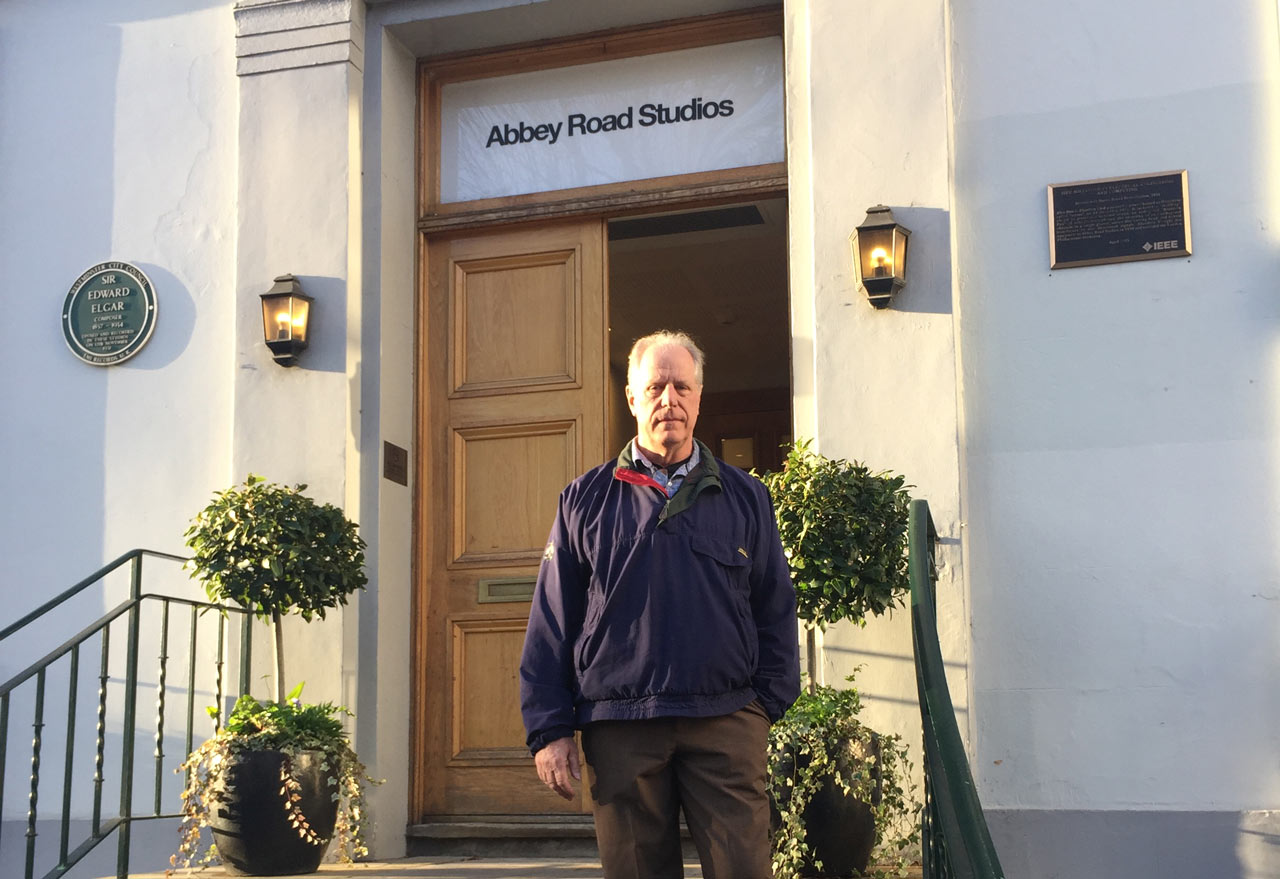 Standing in front of the Abbey Road Studios front door.
Earlier in the week I had reached out to Brian Kehew, my predecessor at CSU Dominguez Hills, Facebook friend, and coauthor of the definitive book on the tools and techniques used to record the Beatles albums called Recording the Beatles, to ask about demoing the YARRA 3DX sound bar for Abbey Road's audio equipment division. He was gracious enough to connect me with the key people and an appointment was made for Thursday afternoon. Fresh off the plane, I wheeled a road case containing the YARRA 3DX sound bar and subwoofer to Abbey Road studios, hauled it upstairs to room 24, unpacked the stuff, and set up the sound bar and subwoofer. The room was small so everything was set to near field mode as I played a number of binaural and surround audio examples – including a variety of Beatles tracks from the "Love" DVD-Audio disc and "Sgt. Peppers" — both of which contain 5.1 surround mixes. I played music (in both stereo and surround), games, movie soundtracks, and some format demos produced by Dolby and DTS. There were smiles of amazement as listeners looked over their shoulders to see if I had placed surround speakers in the corners. I hadn't. All of the sound was coming from the sound bar and subwoofer — from the front.
Studio 2 at Abbey Road – the room where the Beatles recorded most of their albums.
Our host invited us back for the grand tour of the entire facility early the next morning — a rare treat — one that I've dreamed about for a long time. I'm a child of the 60s and my course through life has been heavily influenced by the arrival of The Beatles back in 1964. Like so many other young men of the time, I wanted to learn how to play the guitar, join a band, write and record music, and perform to throngs of adoring fans. The Beatles influenced my decision to leave the University of Michigan in 1973 to seek fame and fortune in the music business. I headed to Los Angeles in early 1974 and have never looked back. I ended up on the other side of the studio glass but have had a lot of fun and enjoyed a life making records and media projects for over 40 years.
After the tour of Abbey Road, we took a train to Guildford south of London to check out a VR demonstration at Figment Productions AND demonstrate the YARRA 3DX sound bar to a distributor friend from Spain (he flew in that morning to experience the unit for himself). I have had only a few VR/AR experiences over the past few years. And virtually all of them were static — things like racing simulations, third party few interactive movies, VR concerts, music videos, or games. Never have I strapped on a portable computer in addition to a VR headset and headphones with a group of other participants. The location based entertainment system developed and being pitched by Figment Productions allows several people — complete with avatars produced with with photogrammetry — to walk through a Jurrasic park-like, 3D virtual environment, experience dinosaurs, feel wind, heat, uneven ground, sit in a gondola as it moves over a landscape, interact with physical knobs and levers, and much more. It was very impressive! Although, I need the video resolution to be more than standard definition. Simon, the head of the company, assured me that an HD version is right around the corner — following the 2019 Show in January.
Then it was my turn in the conference room upstairs. I set up the YARRA 3DX on a table top and played a variety of surround material. The reactions were as predicted — everyone kept asking how a single little speaker was able to fill the room with sound AND create sounds that appeared to come from behind the listener. The next hour was spent doing demos for the entire staff of the VR production company, the distributor, a drone pilot, secretaries, and a guy that builds high-end audio speakers in the UK. Everyone was amazed and eager to purchase their own YARRA 3DX. Sadly, they are not yet in mass production. Resources are quite low at the company that owns the product and licenses the underlying technology and they are currently looking for additional funding as they have publicly posted. My own efforts to acquire and own the YARRA 3DX, fund its mass production with new partners, deliver them to 2700 frustrated backers, market and sell additional units, and introduce them to the consumer marketplace in general seems to have stalled following a recent conversation with company CEO Gerry Chastelet. The road forward is very daunting given that it will take around $750,000 just to get the first 3000 units manufactured and delivered — selling the next 3000 would bring my partners and I to break even. Obviously, this is a very hard sell to investors — especially if the same technology is made available to other consumer electronics companies. Comhear has the same challenge in their attempts to raise additional resources.
Altan sitting in front of the YARRA 3DX sound bar.
Back in London on Sunday morning — the day of my departure, Richard was kind enough to allow a local London backer of the Kickstarter campaign to visit his home and experience the YARRA 3DX. Most backers of the Kickstarter and Indiegogo campaigns have not heard how the product delivers a fully immersive 3D audio experience. I was very pleased to be able to spend about an hour with Altan demoing the system and discussing the future of the product. He arrived promptly at 10 am and sat down about 5 feet in front of the sound bar (and later in the far field position 10-15 feet back). Once again, I played some of my favorites binaural, 5.1 surround, and stereo tracks from a demo DVD disc image. As expected, Altan confirmed the capabilities of the product. He posted on the KS comment page, "I was seated in front of the bar around 5 feet or so away in a large lounge and Mark played through various demos which included binaural recordings of a nature video, a recording of various spatial sounds like steps approaching from different directions, whispering, music (remastered but not binaural Beatles and Aerosmith songs) and a fragment from the latest Mad Max movie. Initially starting with the spatial sounds recoding I was blown away right from the start. The steps started what I would have said around 3 meters or so from my right diagonal back and gradually approached my ear getting louder and closer. Whispers/dialogue shifted position very impressively as well, all without me moving and with only the very compact bar in front and the subwoofer close by on the floor, nothing else behind or around me which is hard to believe but it certainly works. The spatial 3D effects were very prominent in the nature and Mad Max videoed as well."
Altan, Richard, and I discussed the market for the sound bar, challenges bringing it to market, and the current situation at Comhear, the company that ran the crowdsourcing campaigns. There is a future for beamforming sound bars in the consumer and audiophile market. Immersive, surround sound is not limited to movies presented in theaters or at home. I spoke to one of the artists on my label about efforts being promoted by Dolby and Universal Music Group to remix classic albums in Dolby Atmos at Capitol Studios new Atmos equipped room. It seems like the arrival of 5.1 music back in 2000 with the introduction of DVD-Audio…lots of music in 5.1 but no way easy way to play it back. I believe the answer is a full featured sound bar. I'm dedicated to making one available as soon as possible. I was hoping it would be the YARRA 3DX but perhaps a new venture will have to take the lead.
+++++++++++++++++++++++++++++++++++++++++++++++++++++++++++++++++++++++++++++++
It's the holiday season and what audiophile wouldn't be thrilled to receive a signed copy of "Music and Audio: A User Guide to Better Sound". At 3.2 pounds and over 880 pages, it's not exactly a stocking stuffer — but every chapter contains important information that every audiophile should know. And remember it comes with an accompanying Blu-ray disc full of demonstrations, comparisons, and 12 full length high-resolution tracks from the AIX Records catalog. Stop by the website and get your copy AND a copy for a needy audiophile friend — Click Here.