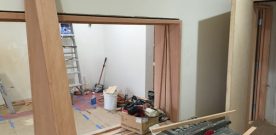 There are three new studios nearing completion at the AIX Media Group building. Today, there's a group of craftsmen preparing to spray the wooden doorframes and tomorrow insulation and fabric will be attached to the walls. It's been a long and very detailed process but the new rooms are going to be gorgeous…to look at. But the space will have to be "tuned" with equalization and physical room treatments before the first mixes are begun. I'm not sure what type of monitors Brew Media will be securing for the spaces but whatever they choose, they will be studio monitors and not designed for use at home. Why is it important for mixing and mastering engineers to hear accurate reproduction of the sound they are producing? Is the sound heard at the studio the real deal — the artist's intent — or do high performance audio systems at home provide the best listening experience?
Most of you know that my own mixing room is equipped with Bryston amplification and 5 B&W 801 Matrix III speakers. I also have a TMH Labs "Profunder" subwoofer for the LFE channel. I choose these speakers because they represent what an audiophile might have in their own home environment AND they sound wonderful. Would I choose these same speakers today? No. I would purchase 5 JBL M2 Studio Monitors, which are the most accurate and revealing speakers I've ever heard. I've had the pleasure of listening to a few of my favorite tracks through these state-of-the-art speakers at Harman International, at the NAMM show, and at Jungle Studios in NYC a couple of years ago. They are amazing! And they don't cost an outrageous amount of money.
They are accurate to the source that was captured by the microphones during a live performance or within the confines of a studio. When speakers designers stray from the ideal of accurate reproduction of the source dynamics, phase, and frequency response and inject their own personal "tweaks" to bend the sound away from what I heard coming through the speakers in my mixing studio, they may be pleasing their customers but they abandon the "artist's intent" and certainly my preference. The sound that engineers, producers, and artists experience in mixing and mastering studios is what I want to hear as a consumer.
What possible benefit would adding excessive bass or boosting the high frequencies have when "voicing" a monitor speaker? Believing that designing and building accurate sounding speakers is a wrongheaded denies the creative production expertise of the producers and engineers involved in crafting the music we love. It's like thinking that expensive power cords or high-end interconnects and speaker cables — which are not routinely found in professional audio studios — should be employed to "refine" the sound of your system.
As a recording engineer and music producer, I want you to hear what I hear in my studio. It doesn't get any better than that. It doesn't get better if I swap out my power cords, it doesn't get better if I process my files with MQA, and it doesn't get better if I convert my files to DSD 512. The sound coming from my speakers in my studio is the ultimate representation of my recordings. Feel free to add reverberation or boost the high frequencies in your own system but know that are altering the original source to your own personal preference.
The engineers and producers that work in the 8 studios in this building use PMC, ATC, M&K, and of course, B&W speakers. They creatively mix and master music for movies, albums (the new Colbie Caillat single is being mixed here on ATCs), and high-resolution audio files. And we all desire accurate delivery of the tracks that exist on the multitrack master not some idealized version that some high-end speaker designer or audio reviewer believe sounds best. These people should make an effort to visit professional studio and get a taste of production reality.
Your reproduction system and the environment in which you listen to it are among the most important things in listening to and enjoying well-recorded music. Don't be led astray by those that promote personal flavors of compromised sound because they think that their marketing people will be able to capture more sales.
Forward this post to a friend and help us spread the word about HD-Audio
Share
About Author
(37) Readers Comments