I suppose I should be used to being portrayed as a negative, nitpicking, uninformed misanthrope…but I'm not used to it and I don't think my perspectives should be characterized that way. I realize that offering a contrary…but hopefully accurate…position on all things audio from formats to marketing spin about high-resolution audio can alienate people with vested interests in the status quo. But I was surprised that Paul McGowan (head of PS Audio), who I have considered a professional associate and have visited in Boulder (after all he was the inspiration for this blog), pushed back rather hard after my posting of the spectra on his demo disc "One".
On April 19,2016 Paul focused his daily blog post on the "ONE Music Project". He claimed, "it's the single best demo disc" he has in his library — "bar none". Later in his post his unbounded enthusiasm continued, "it (a preliminary CD that Gus Skinas produced) sounded surprisingly close to the high res PCM version. Really. Just amazing".
A reader of my review and analysis wanted to know Paul's reaction to the spectra that I did of the "so-called" high-resolution music tracks. You can revisit the article by clicking here. He wrote an asked Paul what he thought.
Here's Paul's email reply to the reader:
He began with an inappropriate personal and professional slur about my expertise that doesn't deserve repeating…then continued.
"Mark is simply using his abrasive, negative, misleading style to rehash a lot of the old tired anti-DSD lines that he loves so well.
[NOTE: The compromises associated with DSD are well known…I guess I respect facts over subjective opinions and hyperbole.]
For example, just because the noise floor is rising doesn't mean the signal level is falling, he's not showing that there's no HF content, he's just showing that he'll take any opportunity to bash DSD.
[NOTE: I haven't written about DSD in a long time. The PS Audio project was recorded on DSD 64 and shows the telltale signs of excessive ultrasonic noise…I pointed it out. That's not bashing IMHO.]
He talks about massive ultrasonic noise like it's a problem for any real system then he talks about missed opportunities for use of the whole frequency range available to 24/176.4k. What about using the whole amplitude range of 24/176.4k? Could his systems take higher levels of signal in the upper frequencies than DSD uses? If not, then he's wasting as much opportunity as DSD is. DSD is just a different set of tradeoffs – but the height of the bump of the ultrasonic noise is controlled (it's limit less than 1% of the max level that PCM might theoretically use.)
Do yourself a favor. Give it a listen."
I disagree with many of the things the Paul writes about but I am at least polite in my disagreement. Readers of my posts know that I regard DSD as seriously compromised format. And I've tried to explain the reasons why I believe that it's unfit for traditional music production.
I complimented Paul and his collaborators on a really wonderful collection of tunes and his efforts to provide the musicians represented on the disc with an opportunity to get their music out to a larger audience and make some money in return. However, I knew that recording the project on a Sonoma DSD 64 system would produce spectra with excessive amounts of high frequency noise. It's unavoidable. There's nothing misleading about presenting the truth about the noise-shifting requirement of DSD.
Take a look at the following illustrations.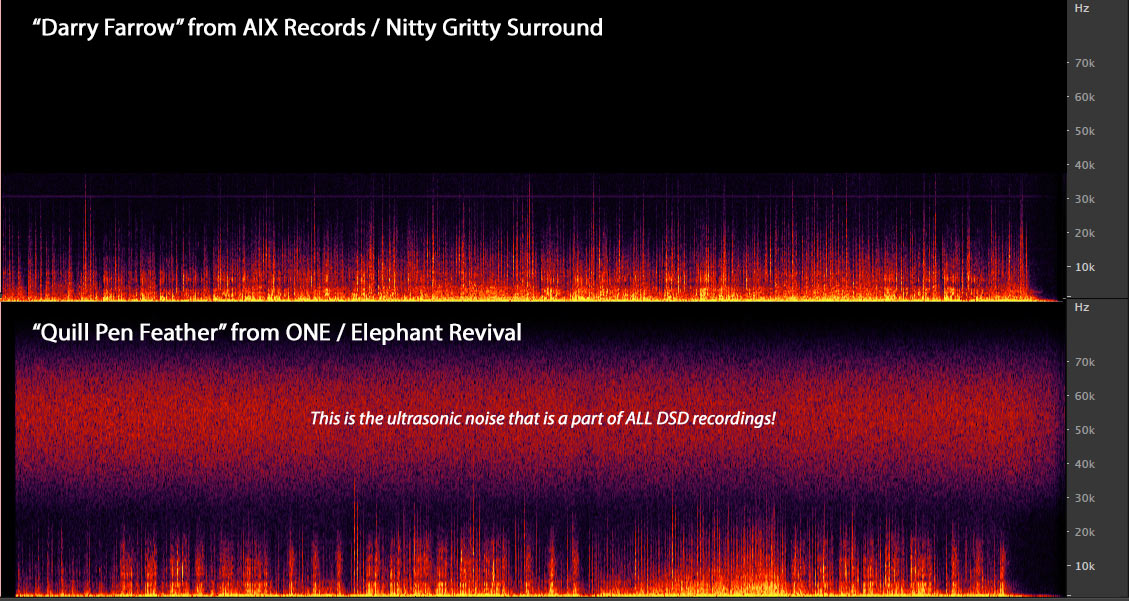 Figure 1 – A comparison of a DSD 64 and 96 kHz/24-bit PCM track.
I selected a track from the Nitty Gritty Surround album because it is musically similar to the track on the ONE Music project by Elephant Revival. The DSD 64 track was provided to me as a download at 176.4 kHz. "Darcy Farrow" was recorded at 96 kHz/24-bit PCM. One might think that the 176.4 kHz track would have more high-frequency information…but it doesn't. The cloud of ultrasonic noise from the DSD noise shifting masks this frequency range. The net result is that the net frequency range of the Elephant Revival track could be completely captured using PCM at 48 kHz. The downloaded file would be almost 1/4 the size of the current version.
To be continued…
Forward this post to a friend and help us spread the word about HD-Audio
Share
About Author
(26) Readers Comments