I debated whether to attend the Los Angeles and Orange County Audiophile Society annual holiday gala today. I'm a lifetime member and have participated in the gala for the past 5-6 years. Like many other hardware and software companies, I'm glad to make available a number of my AIX Records releases for the raffle. And when I say a raffle, I can tell that the society president Bob Levi knows how to shake the tree and get manufacturers to donate a wide variety of audiophile stuff. The display tables were overflowing with over $70,000 worth of cables, headphones, players, speakers, headphone amps, and software. I really wonder what the cost of the components for this stuff actually is. After getting up early to grade papers this morning, I managed to get to the Buena Park Holiday Inn for the first couple of hours of the event.
A few of the usual luminaries were there as well. I saw Michael Fremer, the vice president of analog, seated on the head table (funny that the society has a vice president of analog audio but no equivalent position for VP of digital audio…I ready to volunteer if asked). He was there to introduce the founder of VPI turntables. And Robert Harley of TAS was there as well with a table full of coffee table books from The Absolute Sound archives. This one is all about electronics. Dr. David Robinson, the editor of Positive Feedback Online, was also seated at the main table. I think he's the vice president of DSD advocacy (just kidding). I always enjoy chatting with Bob Levi, Dr. Mark Katz, and Chuck Bruce when I get to the event.
I sat near the raffle area of the ballroom and watched as the UCLA sorority ladies packed the rotating basket full of tickets. It wasn't hard to notice long strings of raffle tickets sticking out of the pockets of many attendees. Every one is hoping to take home some prize for a fraction of the retail price. Here's a partial list of the stuff that ticket purchasers could win:
• E.A.R. 834P Tube Phono Stage designed by Tim de Paravicini. $1895.
• Zesto Audio Andros 1.2 Vacuum Tube Phonostage. New improved version. $4800.
• Kimber Select 1236 Silver Phono cables with silver WBT RCA connectors, one meter. $2500.
• Kubala-Sosna Elation! 1.5 meters, with custom RCA connectors. Perfect connection for low-level phono or any high level source. $6600.
• Excellent Merrill Audio ANAP Interconnects 1.5 meter XLR. $1149. Top Merrill Audio ANAP Speaker Cables. 12 AWG cable, ultra low inductance and low capacitance. 1.5 meter. $1149. Total: $2298.
• A pair of excellent M2 Monitor PBN Speakers. $2500.
• Astell&Kern AK380 Digital Audio Player, Top of the Line! Featuring 32bit 384kHz Bit to Bit Playback, Native DSD (up to 5.6 MHz) Playback, Parametric EQ with 20-band 0.1dB, 200 Femto Second VCXO Reference Clock, Scalable Amp, DNLA-based AK Connect App, Metal Touch Sensor Home Button. $3499.
• Liquid Crimson headphone amplifier. New hybrid design with advanced heat sinks, it can power any moving coil or planar headphones on earth. Powerful and elegant! $2850.
• Grado GH1 Limited Edition Heritage Headphones with Brooklyn raised all maple ear forms. Great live sound! $650.
• Newest Bybee Technology creation…they are called "Room Neutralizers"….a set consists of 8 pcs. that are positioned around the listening room walls. The "Room Neutralizers" retail for $2000. per set. Genius!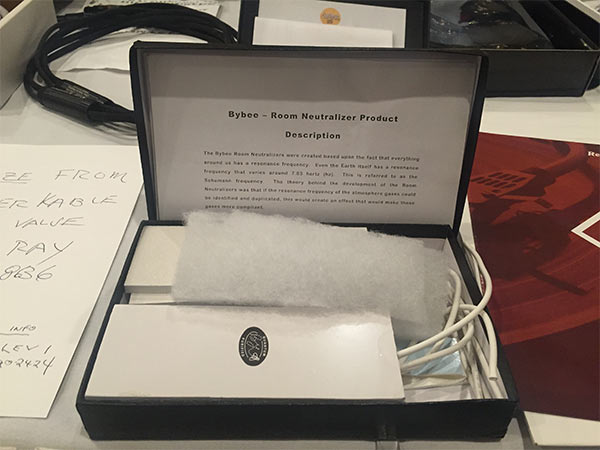 • Q2 Quantum Organizer $448, Q3 Quantum Organizer $750. From Stein Music for the dedicated audiophile. A combination of crystals and quantumphysics organizing the protons by a field of force with the result of a more organic and realistic sound. $1198.
• 2 superb AnnaLyric Systems PC-1 Power Cords and 2 USB-1s, all designed to deliver a musical performance that emotionally transports the listener to their most 'passionate state", where they are one with the music! They throw a large, deep, nuanced soundstage with precise layering and fully formed tactile images within it! Designed by the renowned Olu Sonuga. $350 each. $1400 total.
• 1 – 1.25 meter PATENTED SILVER-NICHROME XLR INTERCONNECT by Klee Acoustics handmade in CA for our Society. MSRP $1295.
And the list goes on. There's a lot of great stuff on this list…things that I wouldn't mind winning. A couple of years ago, I won a professional photography session with a guy in Orange County worth $3000. I would rather have won some vinyl LPs but that's just my luck.
I marvel at the retail prices attached to the cables, but that's the market for audiophile cables. Where I draw the line is with things called "Room Neutralizers" for $2000 from Jack Bybee and Q2 & Q3 Quantum Organizers from Stein Music. They retail for hundreds of dollars. What I saw on the table were pieces of foam core with short cables coming out of one end (Bybee) or small blocks of wood in the case of Stein Music. These products aren't quite up to the "teleportation tweak" from Machina Dynamics but they're close. If doubt the person that won these gems would be able to sell them for a penny on the dollar to any reasonable person. Do you buy this explanation? "A combination of crystals and quantum physics organizing the protons by a field of force with the result of a more organic and realistic sound." I have to chuckle when I read stuff like this.
I had to leave the event early because I'm still moving boxes and boxes of stuff out of my large office to make room for the new studios. I've decided I have way too much stuff.