Alan Parsons: The Audiophile Mixup
I can't say that Alan Parsons is a close friend or even a friend, but I do know him and have chatted several times at length with him at a trade show or on the phone. He's the real deal. He lives just up the coast near Santa Barbara and is still a very active musician, producer, and engineer. He popped up today because there is a graphic of him and a quotation attributed to him circulating on FB and other social media. Here's the image: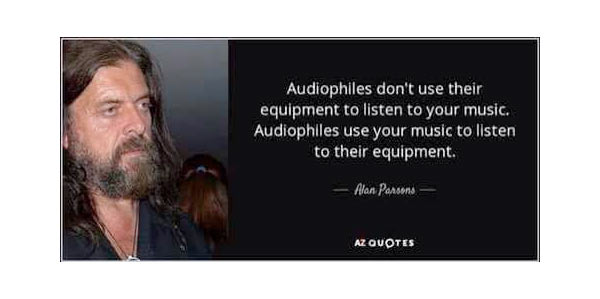 Figure 1 – Alan Parsons quote about audiophiles.
This is a very insightful statement. "Audiophiles don't use their equipment to listen to music. Audiophiles use your music to listen to their equipment". I was asked if I agree with the statement and I replied that I did. All of the endless debating and rants about formats, sample rates, word length, "impedance matched" USB bus restorations devices, and nonsensical reviews of both equipment and music have gotten in the way of sheer musical enjoyment. What's wrong with just sitting in your listening environment and reveling in an expressive piece of well-recorded music ?
I take Alan's very pointed quote as an indictment on "audiophiles". Maybe I shouldn't call myself and audiophile. I've taken it to mean a driving passion to experience the art of music at its very best. And in order to achieve that level of performance requires every step of every production be executed with fidelity in mind. After if the fidelity of the content doesn't measure up then it's impossible to extract high fidelity at the reproduction side of the equation. Try as they might, equipment designers and manufacturers are fighting a useless battle if the recordings that we want and cherish aren't capable of delivering great fidelity.
That's why it's so disheartening when the labels' recommendations for "high-resolution" demonstration material is off the mark. And the descriptions and definitions of "hi-res audio" or "hi-res music" don't help matters.
As a group audiophiles should be less concerned about perfecting the digital data stream moving through a USB bus and more interested in convincing artists, major labels, organizations, and retailers that they want better sounding records. The essence of the problem is the lack of really great sounding recordings. And sadly that problem is not even being addressed within the music industry.
I'm headed to the airport for my trip to the Rocky Mountain Audio Fest. If you're planning on attending the event, please come by and say hello.
+++++++++++++++++++++++++++++++++++++++++++++++++++++++++
For any new visitors, please visit my Kickstarter page here, for information on getting the truth about music and audio.