Jungle City Studios HiRes Demo Session: Part VI
Someone reminded me that I never actually finished my report on the DEG, CEA, The Recording Academy and major label event that was held at Jungle City Studios in New York City on the 24th of June. I guess I didn't feel a pressing need to rehash what I've been saying here for well over a year…I was the last presenter of the evening. But okay…here's my summary of my presentation.
It took some doing to convince the organizers of the event that I would be a natural invitee to an event focused on high-resolution audio. Initially, I wasn't included. I found out about the event from a journalist friend of mine that was shocked that I wasn't among the "top professionals" in the business to share their thoughts and work with the gathered press and others. Of course there are lots of others working in high-resolution but none that have made it their personal mission…except me.
Figure 1 – The studio room of Jungle City where the assembled press and visitors milled and socialized. Photo by Mark Henninger.
I acknowledge that I'm the operator of a very small, audiophile label. I haven't been nominated for a Grammy or otherwise been working for the major labels in the past ten years (I did plenty of major label work prior to that). But I have produced more high-resolution audio albums than anyone else in the Producers and Engineers Wing of NARAS (if you accept my definition of high-resolution…all bets are off if you accept the HRA definition developed and promoted by the organizers of the event). I started the world's first high-resolution audio label, download site and blog dedicated to this emerging area of the music business.
But I'm also quite vocal about what is and what isn't high-resolution audio. There are prominent engineers that agree with me (the current president of the AES and owner of Sonic Studios, makers of Amarra) and others that don't. And there are plenty of CEA audio board members that have trouble with the definition that was recently announced and many that think it's acceptable. After a slot opened up at the NYC event, I received a call and was offered the opportunity to present "as an engineer and producer" of recordings in high-resolution audio. I assured the organizers that I would stay on message and talk about my professional work within the world of high-resolution audio. And I did just that.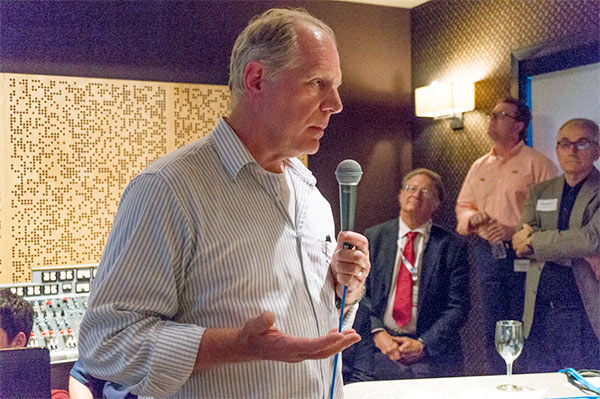 Figure 2 Mark Waldrep, aka Dr. AIX, presenting his position on high-resolution audio. Photo by Mark Henninger.
I planned out my 20 minutes to include a 10-minute introduction followed by a 10-minute demonstration of some of my favorite high-resolution tracks (recordings made using 96 kHz/24-bit PCM without any subsequent processing). Rather than play entire songs or movements, I used my editing system to assemble a single 9-minute compilation. I played "Mosaic" from Laurence Juber, "Lone Star" from Carl Verheyen, "Let Them In" from John Gorka, "Somewhere Somebody" from Jennifer Warnes, "Lowlands" from Hanna-McEuen, "On the Street Where You Live" from Steve March Torme, "Mujaka" from The Latin Jazz Trio, Mozart's Clarinet Quintet K. 581 from The Old City String Quartet, and "Rainbow Connection" from Willie Nelson and Paul Williams.
I was quite pleased that a number of attendees had very positive remarks about my tracks…and even a few that thought they were the best they'd heard that evening. I think it was important to hear my recordings in a great system. I thanked the organizers for the invitation and look forward to working with the DEG, CEA, The Recording Academy in the future.
I'll leave it to Scott Wilkinson of AVS Forum to evaluate my 20 minutes. He said, "All the clips sounded exceptional, with clean and present vocals, clearly delineated and detailed instruments, and unfettered dynamics. Everyone in the room was very impressed, as they should be—this is the epitome of high-resolution recording in my opinion."
And that was just the stereo mixes…the surround versions are even better. Thanks Scott.