Grandioso Stolto by Esoteric
I have to thank my friend John Sunier at Audiophile Audition for alerting me to the latest products developed by Esoteric, a subsidiary of Teac Corporation. In what has become a familiar war over who's got the biggest numbers, Esoteric has issued the latest salvo. Their new SACD player/monoblock D/A amplifier combo configuration are designated the Grandioso P1 and the Grandioso D1 respectively…and they sport some rather unique technologies. You can buy these for your audio loving partner on this Valentines Day for a mere $88,000.
What's unique about these new pieces? Well, for starters the Grandioso P1 SACD transport separates the player from its power supply. You get two very handsomely built shiny silver boxes with a terrific server driven optical disc reader. This is NOT a hybrid player. It can only read and playback SACDs [DSD 64] and compact discs (44.1 kHz/24-bits), which I find very surprising…and limiting…in 2014. The unit has the following outputs:
• ES-LINK4 (developed by Esoteric), which outputs DSD and 352.8kHz/48 bit PCM ultra wideband and digital transmission using an HDMI cable.
• AES-EBU Digital (Dual AES-EBU format)
• i.Link (Audio)
• RCA Analog
The magic happens inside the Grandioso D1 amplifier. The inputs via the ES-LINK4 interface can accept 352.8 kHz / 384 kHz, 48 bit Linear PCM (ES-LINK4 format). [NOTE: Here's the my number is bigger than your number part!] They also talk glowingly about the "outstanding expressive power of 36-bit D/A processing".
From the catalog:
"The D1 applies a 36-bit D/A processing algorithm that converts PCM signals to analog signals at a high resolution of 36 bits by combining several 32-bit DAC devices. The tone of the high-bit data is used for faithful analog conversion. The resolution of 32-bit encoding is 256 times higher than that of 24-bit encoding, and 36-bit encoding gives an amazing resolution level that is another 16 times higher – a total of 4,096 times higher than the resolution of 24-bit encoding. Producing even finer bit tones minimizes operational error for outstanding expression of even subtle music signals."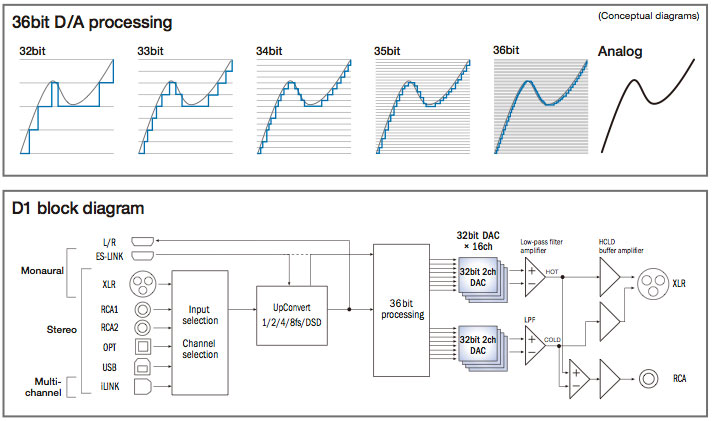 Figure 1 – A couple of graphics taken from the Grandioso D1 monoblock D/A converter [Click to enlarge]
OK so wait a minute, please. Let's do a little reality check on a couple of these claims.
First, the move from 24-bits to 36-bits doesn't do anything to bring "fine, smooth sound quality" to your outputs. There's nobody creating masters at 36-bits and incredibly few recordings that take advantage of 24-bits. Most…as we've seen in previous posts…hover around 5-6 bits with the best commercial recordings approaching 10-12! The only advantage you could get from 36-bits is if you made your recording in an anechoic chamber and wanted the noise floor to drop from minus 70-80 dB to near 100 down!
A well made 16-bit CD can actually do a great job on the dynamic range of most mastered music. These specifications and numbers as described in the Esoteric literature is marketing hyperbole and nothing more. And don't forget that this is an SACD/CD player…not even a hybrid machine that could deliver real high-resolution audio from a USB stick or hard drive…not to mention a Blu-ray at 192 kHz/24-bits.
There are virtually zero recordings being made at these numbers and hoping that a fancy processor is going to "upconvert" your CDs to 352.8 kHz/36-bits and result in high-resolution audio output is wishful…and expensive, very expensive…thinking.
Keep your money and buy an Oppo BDP-103 or 105, you'll get a true hybrid machine (it will play any type of optical disc you put in the drawer), music server with USB and eSata hard drive compatibility and DACs (on the 105) that will more than meet the needs of audiophiles. And you get to save $87,000!
We need to let the manufacturers know that simply parading around bigger numbers doesn't do anything to elevate the fidelity of recordings…that will only happen if we demand better records from the labels.