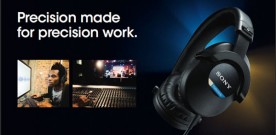 I've posted a couple of times about my experiences at the recent NAMM Show and wanted to finish up with a meaningful conversation I had with a couple of Sony representatives about headphones. I've used Sony headphones for years in my studio although I'm not usually much for listening to music using phones of any type.
But the market for headphones is huge and growing, thanks in part to the cool factor and styles provided by Beats with the Dr. Dre line. There is obviously a large segment of mostly younger listeners that are enjoying personal music through a good set of headphones. I'm interested in great headphones because I want to deliver high-resolution audio on a personal basis not because I want to make a fashion statement or have the bass frequencies hyped.
At the Sony booth, I described that I was looking for a set of headphones that would allow me to evaluate the perceptibility of ultrasonic frequencies in music recordings. In order to do that I have to have a set of speakers (personal headphones or the new Harmon M2 studio monitors or Salon 2s) that can accurately reproduce frequencies above 20 kHz. The product manager brought up the Sony Professional Audio website and showed me the specifications page on their 7500 line of headphones. I've posted the specifications below: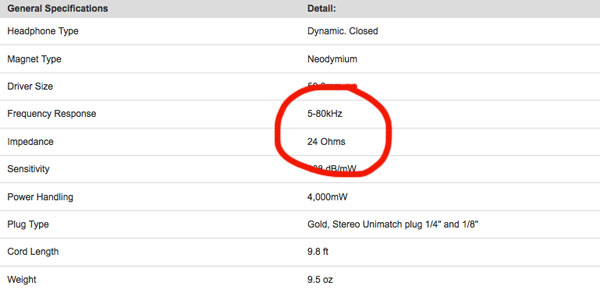 Figure 1 – The specifications tab on the Sony MDR 7520 model headphones showing the response to 80 kHz!
"These headphones utilize ultra wideband 50mm HD driver units incorporating liquid crystal polymer film diaphragms," according to the downloadable pdf about the 7520s. And they cost only $500! That's a pretty reasonable price for a high quality set of phones. They said that they would send me a pair for evaluation purposes…so we'll see.
I might also mention that I did go through the Blue Company "sneak preview" of their mega expensive ($5000!) and as yet undelivered headphones at their booth. Blue is know for their line of high quality microphones and are entering the headphone market with a lot of smoke and mirrors, it you ask me. The 2 minutes 4- station promotional tunnel at their booth said nothing, showed no product samples, listed no specifications…they just flashed lights and clever marketing slogans. Pass.
My general complaints about headphones are that they are uncomfortable and they put the sound in the middle of your head. There is no sense of space when you experience most portable listening systems…headphones or in ear monitors. Here's a blurb that I noticed today on the Men's Health website:
Do your ears a favor. On a recent episode of Men's Health Live, we hit the Consumer Electronics Show in Las Vegas and chatted with Daniel Sennheiser of Sennheiser about his company's new line of Momentum over-ear headphones. Sennheiser explains the benefits of using headphones over speakers:
"A speaker is always dependent on the acoustics of the room that you're in. Unless you have a concert hall at home, you don't have optimal acoustics. Headphones create that binaural audio environment—you can listen to headphones and the audio quality is as if you're in a concert hall or a jazz club."
Now I have a great deal of respect for Daniel Sennheiser and have used their equipment for a very long time. But he's strayed from the truth pretty severely on this one. I got my Ph.D. by studying binaural sound recording and reproduction and I can tell that music delivered through headphones has nothing to do with binaural hearing unless you record the source material using a binaural head (which Sennheiser does manufacture). The spaciousness that a binaural recording can provide is very special but how much commercial music is recorded that way? None!!
If I can establish that the new headphones that I'm testing can actually output frequencies higher than 20 kHz…I'll be posting some test tones to continue my quest to establish the importance of ultrasonics in the recording and reproduction of high-resolution music.
This is going to get interesting. If any of you have a great set of headphones…you'll be able to get involved in this informal study.
Forward this post to a friend and help us spread the word about HD-Audio
Share
About Author
(4) Readers Comments