After spending my $12 on the Nine Inch Nails web site to purchase "Hesitation Marks" in a variety of file formats including the hyped "Audiophile Mastered" versions, I've decided that "Audiophile Mastered" is an oxymoron. I wrote excitedly about the prospects of artists actually allowing dynamics back into their releases and was "all in" with Trent Reznor with regards to his choice to offer the regular version of his new album along with an optional version that would appeal to audiophiles like me. I'm not so excited anymore. Here's what I found.
First, let me state that I like the tunes that he's crafted. The variety of instrumental colors and textures kept me listening through the whole album. The first track, "The Eater of Dreams", is a very noisy (deliberately so) gradual build on some rather archaic sounds that culminate in a blast of energy that launches the second tune, "Copy of A".
As I started analyzing the tracks, the first thing that I saw from the waveforms was that the "Audiophile Mastered" versions were subjected to the standard dynamics crushing that was normal a decade or so ago. On the other hand, the normal "Mastered" versions were crammed even louder hand anything we imagined was possible just a few years. Those clever plug-in programmers and "do-it-yourself" YouTube mastering tutorials have allowed anyone with a reasonably powerful computer, a DAW (Digital Audio Workstation) and a set of Dr. Dre's Beats Headphones to destroy all hope that a good tune might make to music consumers with even a small amount of dynamics.
The Nine Inch Nails "Hesitation Marks" album "Audiophile Mastered" files are a complete waste of effort and hype. What could have been a major opportunity to demonstrate that a current artist would produce AND release a project that went against the trend towards louder and louder records…was lost. I was excited because I imagined a completely different approach to the mastering stage than what was advertised. My expectations were admittedly too high. What we ended up getting was an insanely loud version and a very loud version referred to as "Audiophile Mastered".
The good news is that the files that I downloaded have a sample rate of 48 kHz and a word length of 24-bits. Of the several regular mastered tunes that I measured for dynamics the best registered 10.99 dB…a whopping 2-bits worth of fidelity. And it didn't get much better for the "Audiophile Mastered" tracks…the best I found was 12.53 dB. The mastering engineer made use of another whole bit to slip through!
Here's the first tune that caught my ears and eyes. As you can see in Figure 1 below, both versions are pretty much maxed out with regards to levels. However, if you look closely at the point where I switched the display from the "Audiophile Mastered" to the normal mastered versions, there is a slight area of black above and below the waveform for the normal version. That seems completely opposite of what you might expect.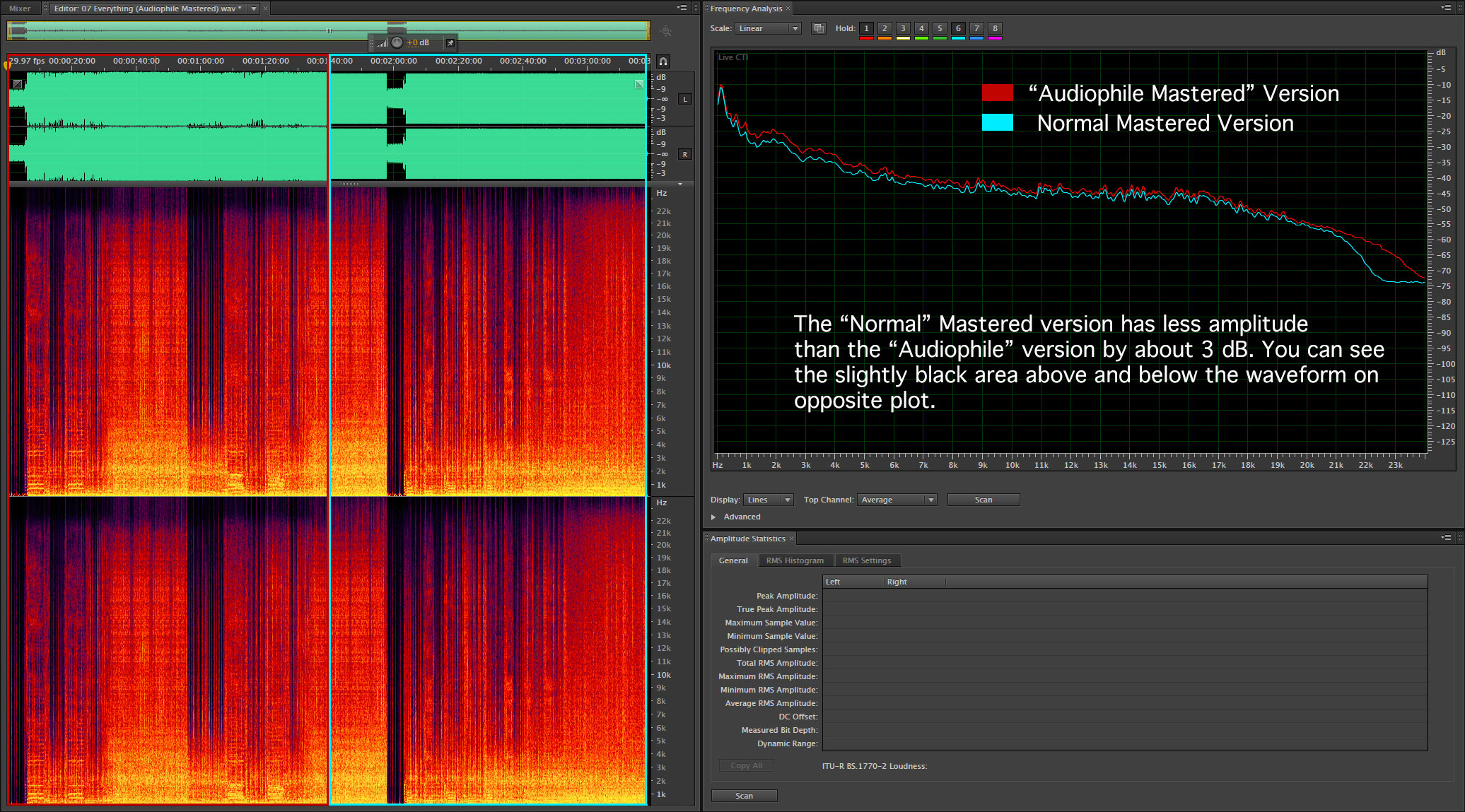 Figure 1 – The spectragraph of NIN's "Everything" track in "Audiophile" and normal versions. (Click to enlarge)
Well, I'll let you in on a mastering engineers tracks. First, you push the limited on the amplitude with processing or even deliberate "digital" clipping and then adjust the gain down a couple of tens of a dB to make the record "CD safe". I can know if that was done here but it certainly looks like it. When I took a careful look at the VU meters while this tune was playing, it left no doubt as to which version was actually louder. Take a look at Figure 2 below.

Figure 2 – The VU Meters for the Normal and "Audiophile" Mastered versions of "Everything". (Click to Enlarge)
So I'm disappointed. I'm tempted to call Trent and as him if he would allow me to have a shot at doing a real "Audiophile Mastering" for a tune or two (I love to mix one in surround as well). I'm convinced that there is audience for music without the heavy hand of mastering getting involved. I know Trent is all over the place these days (I heard him on the radio today in a promo for some NPR program), but I am willing to reach out to him.
The new NIN record is a really interesting listen. But the hype that has surround the "Audiophile Mastered" version is just that…hype. At this point I'm not sure if there's a mastering engineer on the planet that would know how to leave well enough alone.