About 20 days ago I learned about a new Kickstarter campaign for something called "geek" initiated by Gavin Fish and Light Harmonic. The pitch describes "geek" as "a new awesomifier for headphones" and lays out the requisite product descriptions and a series of rewards that "backers" get based on their contribution to the effort. The remarkable thing about the "geek" is that it took off based solely on the marketing pitch put that Gavin put together. No one has seen or heard the "geek" but by the end of the first day, their goal of $28,000 was eclipsed three times over! And this morning that figure has risen to over $220,000.
The company's flagship ultra high-end converter, the DaVinci DAC, is one of the finest digital to analog converters on the planet. It ought to be for $20K. Larry Ho, the brains behind the unit, believes "Without using digital filter, digital up-sampling will make the sound more natural and clear. The ultimate goal is making digital sound like analog master tape." Apparently, they're approach is to upsample a native digital file. Operating in the 384 kHz sample rate range allows the digital filters used to get rid of the high frequency artifacts encountered during a digital to analog conversion to be less steep and easier to design and implement. Whether this is an engineering advantage over leaving the sampling rate alone and building great filters is an open question. I still stand by my Benchmark DAC2 for sound that is "natural and clear"…and I save $18,000 in the process. Remember the magic is in the recording…
Don't get me started on Larry's line, "The ultimate goal is making digital sound like analog master tape." Would you spend $20,000 or even $299 (the price of the GEEK) for a device that only measured up to analog tape, a format that can't come close to the fidelity of a moderate digital system? This myth has got to go!
I'm amazed at the response for this little unit…especially when I started digging in a little to the entire pitch. Don't get me wrong, I'm all in favor of advancing the cause of better audio but there are more than a few things wrong with this campaign when you look at the details.
The first is their opening statement that the "geek" is "an on-the-go, high-res DAC and headphone amp that plugs into your computer's USB port. Your videos, music, & games will rule!" What part of carrying around your laptop computer is considered "on-the-go" in the era of Smart Phones and portable digital music players like Astell & Kern's box? To be able to use a USB connected device like the one being promoted by Light Harmonic, you have to have a USB powered device to deliver the power AND the music to the "geek". As I read this, it clearly isn't possible to think of their little box as portable. That rules it out for most of the targeted demographic of headphone fans.
And what about that USB connection? The box as designed has the USB connector sticking out of the end. Are you really going to plug that directly into your Mac Book Pro? The chances of it getting broken off are better than it not happening…and you lose the adjacent ports on you computer because the unit is so wide. The brilliant solution that Light Harmonic came up with is to provide a 6″ USB non-locking extender cable called "Slacker". This serious flaw should have been taken care of in the original design…now they throw a band-aid on it and brag about a half ass solution.
The catalyst for the "geek" is discussed a little further down their Kickstarter page. Gavin describes three "problems" that the unit is designed to solve:
1. If you're a high resolution music lover, a majority of laptop audio systems can't play any higher resolution than standard CD (16/44.1). That sucks! The unit is high definition. According to their pitch, "GEEK can play any current or anticipated audio format."
If you look a little further down the page there are a whole lot of logos representing "some of the formats, services, and sample rate supported by GEEK". This is where they slide off the rails, in my opinion. In between the FLAC and the ogg vorbis logo is the DVD-Audio logo. Are they saying that the GEEK will be able to decode and playback an MLP file (the required HD-Audio format for the DVD-Audio format)? It won't. The same problem with putting the Blu-ray Disc and SA-CD logos there…the unit won't play Dolby True HD or DTS HD Master Audio (Blu-ray formats) or be able to play an SACD disc because the drives in your laptop can't read an SACD. Gavin's flying a little loose with the facts in the logo section.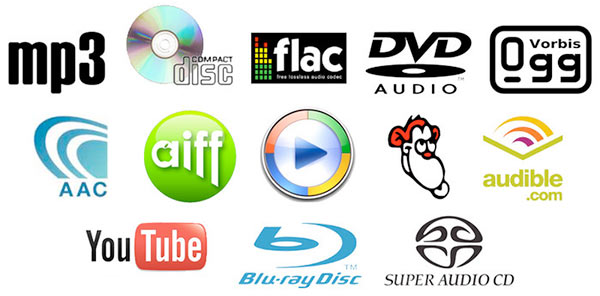 2. The second problem is the discussion the anemic headphone amplifiers that come on Android or iPhone Smart Phones. From what I could find out, the output power of a standard USB connection is 500 mA. That's it. It may be that their headphone amplifier is "10 times more powerful than the headphone amplifier typically used in laptops." But it's not going to be much better than the output of your phone. The power has to come from somewhere…in this case the USB port. And that output is fixed by the specification. And remember louder isn't necessarily better.
3. Their 3rd problem is about unnatural sound. "Headphones, and even desktop speakers, don't sound natural. This is because the speakers are too close to your ears. In a traditional stereo, both ears hear both channels." Headphones CAN sound very natural (that's what Headphones[xi]® does)!
The GEEK is a "3D awesomifier. GEEK has 3D audio technology that emulates the way your ears hear." They decided to put some digital signal processing in the output stage of the unit to simulate the sound of a big room as heard by your ears. I look forward to hearing their solution. The Headphones X technology from DTS didn't work for me and I'm sure their approach is similar.
My hat is off to Gavin Fish and Light Harmonic. They've pulled off a major Kickstarter campaign by seriously misrepresenting their new GEEK product. They've gotten hundreds of people to "pre-order" them at discounted pricing and generated more than enough money to manufacture them by the thousands. And yet no one has heard one. When they do finally get their ears plugged into a GEEK, I think buyer's remorse will set in.
Now if I were to put my product thinking cap on, I would come up with a truly portable, self-powered, audiophile player with a bona fide "personalization" capability for 3D processes and more. Maybe there's a Kickstarter campaign in my future.