Jimmy Buffet & Jackson Browne in Detroit
Last weekend, I visited some of my closest friends in a suburb of Detroit, Michigan on the very weekend that it became the largest city in the United States to declare bankruptcy. I grew up just outside of Detroit and have many fond memories of the place. Many of my high school friends still live and work there. The excuse to get together this time was the annual Jimmy Buffet (which included Jackson Browne as the opening act) concert at the Tiger's baseball stadium. I haven't been to an event like that in a very long time. It's pretty impressive that a reasonable sound experience can be delivered to 40,000 fans!
Touring companies that handle large outdoor venues travel with the artist for the duration of the tour. Jimmy Buffet doesn't do a lot of dates…I think he's got 30 or so planned for the summer…unlike Brad Paisley, the country star who might do 100 or more. They set up a massive stage filled with media systems and technology in the outfield area of Comerica Park in downtown Detroit.
The logistics of getting 7 semi tractor-trailers unloaded and ready for the sound checks and concert in 24 hours is very impressive. They set up a stage that was at least 170 feet wide by 75 feet deep AND 80 feet high.
The audio crew assembled and hung four hanging column arrays of speakers consisting of twenty or more individual cabinets, two columns of low frequency drivers and a bunch of subwoofers at the edge of the stage that were not in view. It's hard to imagine the number of amplifiers and crossover networks that were employed, but rest assured it was plenty. The central mixing location was about 200 feet in front of the stage and had to have at least 60-90 inputs on the console and assorted signal processors.
There were 5 Jumbotron video systems around the stage. Behind the main part of the stage was a 70-foot wide screen. Flanking the stage were two 40 by 30 foot screens and there were two smaller ones on the extreme left and right sides for the people that had very oblique angles of view.
Jimmy has the tunes choreographed with the projected videos. He even has a crew customize some of the videos with footage taken that day of fans and of the Detroit area.
I can't begin to talk about the lighting system. There were computer controlled moving and static lights everywhere. They had large arrays of LED lights pointing out towards the crowd so that they could point cameras on the "parrot heads" that dressed for the occasion. My favorite was the lady that crafted a bikini top using two plush toy shark heads…only at a Jimmy Buffet show.
The show was great. I especially enjoyed the Jackson Browne set. I've met Jackson. He came to the release party for the tribute record he contributed to for Eric Lowen, half of Lowen & Navarro, who sadly passed away after battling ALS for 7 years. Jackson had a great band and sang many of his hits for over an hour. He's a real songwriter/poet and I applaud Jimmy for involving him in an arena show. Jackson wouldn't fill Comerica Park but he delivered a terrific performance. The sound for Jackson was well balanced, clear and warm.
Jimmy played for almost two hours and had 12 musicians/singers on stage…the Coral Reefer Band. He knows how to entertain a crowd…picking the right tunes and telling the right stories. It's amazing to me how a guy with a single huge hit could turn it into a mega business. But he's done it…and the crowd loves him.
He mentioned having played the Raven Gallery in 1978 with an audience of around twenty. Growing up in Detroit, I knew the Raven Gallery and saw a bunch of singer/songwriters at that venue all those years ago. It was just a small club with a minimal sound system but the artists were right there in front of you. It's a long way from the Raven Gallery to Comerica Park.
But the sound was not that great for Jimmy. I know you can't expect to have an audiophile experience at a venue this big but at least they could make Jimmy's vocals warm and inviting rather than over compressed and EQ'd to hell. It didn't work for me. Sure the experience was memorable and well worth doing but this was not an enjoyable sonic experience. It was an event.
Sunday afternoon, I visited a friend from junior high that I hadn't seen in over 40 years. Harry and I were in a band together. He was washing his Burt Rutan designed Defiant plane that he built from plans over fifteen years in the 80s at the Pontiac airport. I'm also nut for airplanes (my father was a pilot for General Motors), so we went up for a 45-minute cruise around the area. That was a lot of fun!
Figure 1 – Harry's homebuilt Defiant airplane…very cool!
Harry told me that he had seen Jimmy Buffet's Falcon 900, 3-engine private jet parked at the Pontiac airport on Saturday…his success at music and business gives him the right to fly anywhere he wants in his shorts, T-Shirt and bare feet. This is a guy that's enjoying living large and hopping around the globe in style.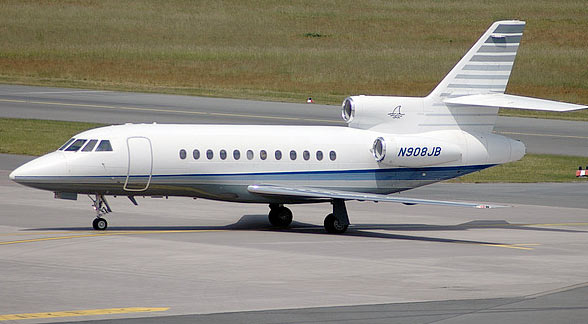 Figure 2 – Jimmy Buffet's Falcon 900…notice the letters on the airplane's tail. Go JB!
Tomorrow I'm off to Washington DC to the Capitol Audio Fest. If you live in the area, come by a visit. I'll be there all weekend.