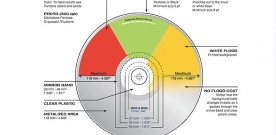 There have been lots of attempts by audiophile hardware and software companies to try and market improvements to the 44.1 kHz/16-bit restrictions of the Redbook specification. The folks at JVC created something called XRCD. Did it possess better fidelity than a standard CD? No. The mastering process and specifications of the replicated discs might have been done with greater care but the CD themselves were still 44.1/16.
Mobile Fidelity came out with a line of CD that used gold instead of aluminum to reflect back the laser light coming from the pickup in CD players. Did that improve the sound or fidelity of their releases? No. Will the gold CDs last longer than a standard aluminum sputtered CD…perhaps. It might add another 25 years to the 50-75 years that CDs are expected to last.
I read about a Japanese company that was selling limited edition glass CDs (these are individually cut by a laser beam recorder in the same fashion as the masters used to make stampers through a plating process). The company was charging $800 each for these "ultimate quality" CDs. Did they produce any better sound then a standard CD. No.
There have been K2 Mastered CDs, High-Resolution CDs and other fancy marketing names attached to the same Redbook specification compact discs for years. The HDTT (High Definition Tape Transfers) website would have you believe that recordable CDs made by Taiyo Yuden produce better sound than replicated ones. Not true. In fact, the error rates produced by recordable CDs are more than carefully replicated CDs because the reflectivity of CD-Rs is less than the aluminum sputtered discs. Why push that agenda…so they don't have to go to expense of replication. CD-Rs can be made to order.
Here's my favorite from a site I visited today, "DXD is digital PCM format using 24-bit signal sampled at 352.8kHz. No, it can't be at present released on any medium, but that is how the material from master tapes is saved on a hard drive during mastering and in this form it is processed. Than (sic) the signal is downsampled to 16-bit, 44.1 kHz. By shaping noise and using adequate dithering (an intentionally applied form of noise, used to randomize quantization error) they manage to achieve 20-bit resolution on CD!" [NOTE: I don't really get the "from master tapes" part of the statement…that would make DXD completely meaningless…oh well!]
So what am I supposed to believe? An uniformed person reading this statement might believe that someone has magically added 4 bits of resolution to a Redbook CD. If they did it wouldn't be a Redbook CD anymore! The reason we have standards is to ensure that everyone that signs on to that standard produces hardware or content that will reliably play according to that standard. In my experience producing DVDs and Blu-ray titles is tough enough even if you do follow the specifications…it seems like there are always problems with a few machines.
There is an immutable fact about compact discs that cannot be changed by wishing, marketing or techno babble. CDs use PCM encoded audio at 44.1 kHz sampling rate with 16-bit linear words. This is a box that defines the maximum "potential" fidelity of a compact disc, which can be absolutely wonderful. But it's not possible to exceed that specification.
Be wary of anyone promoting 20-bit CDs or anything else that supposedly improves the quality of compact discs. If you feel you must do something, just get you green magic marker out…that all the "magic" you'll ever get.
Forward this post to a friend and help us spread the word about HD-Audio
Share
About Author
(6) Readers Comments