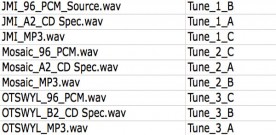 Today is Christmas and I would like to wish all of you a very happy holiday season. It's always a festive time of year with visits from the kids, lots of great food, and family activities. I finished my shopping yesterday, which included trading out my one year old iPhone 5S for a new iPhone 6 Plus (yes, I had to get the larger phone because of the bigger screen for watching movies on planes). I'll be anxiously waiting whether the folks at Apple software upgrade the iOS to include high-resolution audio…but I'm not holding my breath.
Last week I let everyone know about the test files I prepared for the research project that I was part of into the audibility of MP3 files vs. high-resolution audio files (from what I saw…no one could tell them apart. Of course, the procedure was flawed; the system incapable of producing high-resolution audio, and the environment acoustically horrible…but that should make any difference to the people sponsoring the research. I can't wait to read the final report. It will announce with some serious fanfare just after the first of the year.
But there were a number of readers that downloaded the files and listened on their own equipment. I added an additional level of "resolution" by including a CD spec version along with the MP3 and source 96/24 PCM file. Of those readers that provided me with their results…no one got them all right. Admittedly, it was a very small sample (I received less than 20 responses) but the results were all over the map. Some people picked the 96/24 sources as the best sounding for one example and then selected the MP3 as best for the next one. And the CD versions were chosen more than any other for the best fidelity. Things were all over the map.
It seems that the jury is still very much out on the perceptibility of high-resolution audio, in spite of the raging debates that happen all of the time on various forums. A definitive study has not yet been done that convinces me that things will go one way of the other. However, I frankly don't care. My position is that it is just too easy to make and deliver high-resolution audio files to avoid doing it. And I don't mean moving up to 384 kHz of quad rate DSD…these are fantasy rates and bear no relationship to reality. 95 kHz/24-bit PCM is more than adequate to handle every level of fidelity you could ever want.
For those who didn't respond to the test but want the results, here are the results:
JMI_96_PCM_Source.wav Tune_1_B
JMI_A2_CD Spec.wav Tune_1_A
JMI_MP3.wav Tune_1_C
Mosaic_96_PCM.wav Tune_2_C
Mosaic_A2_CD Spec.wav Tune_2_A
Mosaic_MP3.wav Tune_2_B
OTSWYL_96_PCM.wav Tune_3_C
OTSWYL_B2_CD Spec.wav Tune_3_B
OTSWYL_MP3.wav Tune_3_A
You can still go to the FTP site and download the source files and take the test yourself. It's beginning to seem like the world can't tell the difference.
Enjoy your holiday…and don't eat too much!
+++++++++++++++++++
I'm still looking to raise the $3700 needed to fund a booth at the 2015 International CES. I've received some very generous contributions but still need to raise additional funds (I've received about $3500 so far). Please consider contributing any amount. I write these posts everyday in the hopes that readers will benefit from my network, knowledge and experience. I hope you consider them worth a few dollars. You can get additional information at my post of December 2, 2014. Thanks.
Forward this post to a friend and help us spread the word about HD-Audio
Share
About Author
(0) Readers Comments