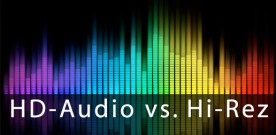 Is the emerging world of better quality audio going to have a name that everyone will recognize or not? Last Friday I got a phone call alerting me to a major marketing effort for "better fidelity" music that will be taking place in several months. It's true that there's been a ground swell of support around the concept and reality by small audiophile labels, by organizations like NARAS (National Academy of Recording Arts and Sciences) and the CES (Consumer Electronics Association), by electronics companies of all sizes, artists and even the major record labels. I was interested and encouraged by the information I received but needed to ask one question. What will the initiative be called? I didn't get an answer.
I've spent a fair amount of time on this site talking about many of the aspects of this new movement but have been using my own designation…HD-Audio or High Definition Audio. Many of the people and organizations involved in "better fidelity" audio refer to it as high-resolution audio or hi-rez audio. In fact, when I first started investigating using higher sampling rates and longer word lengths, I referred to it as high-resolution audio as well.
I've changed my mind and hope that those that are using high resolution or hi-rez come around to my way of thinking for the following reasons:
1. Using a single uniform term ensures all participants deliver a consistent branding message. If the supporters of high quality audio use different terms for the same essential concept, the public will be confused and avoid the new possibilities that the formats offer. There might even be a sanctioned logo that will indicate to consumers that a particular piece of equipment or software meets a certain specification.
2. High Definition is more familiar to the public than High Resolution because of the successful campaigns associated with television displays. When the older NTSC CCIR-601 standard format of 720 x486 pixels in a 4:3 aspect ratio was eclipsed by the ATSC's (Advanced Television Standards Committee) HD-Video specifications (1920 x 1080 or 1280 x 720), they didn't call it high-resolution television. We moved from standard definition to high definition just as we are now moving from HD-Video to Ultra HD-Video with the quadrupling of the number of pixels once again (the former 4K standard opted to use the name HD). They know it's widely recognized and therefore makes for an easier transition.
3. The shortened form of HD-Audio is more compelling as a branding element than hi-rez and easily tied to the existing HD-Video. There may even be a move to Ultra HD-Audio in the near future as we move from 96/192 kHz and 24-bits to number in the 384/768 kHz and 32-bit range. The use of HD works to define video AND audio.
4. The HD-Video analogy continues when we use the name to refer to a set of agreed upon technical specifications. There are lots of technical working groups and organizations that struggle through establishing the details of a universal standard. The audio/music industry hasn't adopted the same structure. If company A wants to say that their 44.1 kHz/16-bit PCM digital files are "High Resolution" or "High Definition", no one can complain because there is no real standard. I routinely rant against the over use of the "high" definition or resolution association that marketers use for audio that doesn't meet any standard. If it helps sell more downloads or copies then so be it.
So there's my case for using the letters "HD" for high quality audio. It simply makes more sense to me and so I will continue to use HD-Audio to describe it.
And it has to mean something as well. The initiative that I learned about on Friday looks to be another exercise in marketing and less about establishing standards and making sure a consistent message is provided to consumers. A number of years ago, there were buttons passed around to vendors at the annual CES show that said, "We Support HD-Audio". When I inquired how the CEA people were defining the term HD-Audio, they told me it was anything better than a compressed MP3 file. It was another example of a good idea undermined by the tired old vested interests and marketing folks that don't understand that a clear and truthful message will always win in the end.
So I'm very curious if you have a preference? Please leave a comment or write to me and let me know if these points make sense to you. Are we on the brink of the new age of HD-Audio or High Resolution Audio?
Forward this post to a friend and help us spread the word about HD-Audio
Share
About Author
(5) Readers Comments