I've been a huge fan of immersive audio for many years. When DVD entered the marketplace back in 1997, it was its ability to deliver 5.1 surround sound that really appealed to me. Yes, the video was much better than VHS with its widescreen and MPEG-2 compression but it was the adoption of surround sound that really brought theater experiences home.
But that was movies. Music had its chance three years later with the introduction of DVD-Audio. The format included losslessly compressed surround sound for the first time using the MLP (Meridian Lossless Packaging) process. Dolby Digital and DTS were simply not good enough for music. The music industry made yet another attempt to market multichannel audio to music consumers. And the results were similar to those early attempts with quadraphonic vinyl — no one seemed to care. Stereo playback is still considered by most audiophiles to be the best way to enjoy recorded music.
AIX Records has embraced and endorsed immersive music since our very first production. And I still believe that listening to a well crafted 5.1 mix of any album is vastly superior to the best stereo I've ever heard. The surround remixes of Sgt. Peppers and The White album that came on Blu-ray discs in the 50th anniversary editions are amazing and well worth the expense. Giles Martin and Sam Okell brought new life and expressiveness to those well-known albums. They even did an Atmos mix of Sgt. Pepper in conjunction with Dolby Labs although I'm not sure where or how it was released. I did see a brief video that mentioned a rumored Atmos mix of the 50th anniversary of the Abbey Road album. That could be very interesting.
Sony's 360 Reality Audio
And now Sony is pushing 360 Reality Audio. During a brief FB chat with a close friend in the UK, he directed me to the Sony site that promotes this new technology. You can check out the site for yourself at 360 Reality Audio. My friend wanted to know if the Sony technology was related to the YARRA 3DX beamforming stuff I'd been involved with a few years back (I'll be writing about the YARRA 3DX deliveries as soon as I receive mine…they are starting to ship!!). I wrote back that 3D audio is all about what gets to your ears. How an individual technology achieves that is something different. Binaural with head tracking a la the Smyth Brothers' Realiser is one approach while beamforming without headphones is another. Having multiple speakers in a listening room can also achieve immersive surround music.
The Sony 360 Reality Audio promotional video located at the very top of their page tries to distinguish their object oriented "virtual speaker" approach from traditional stereo and even 5.1|7.1 surround. But as marketing types are prone to do, they deliberately misinform the viewer with statements that are incorrect.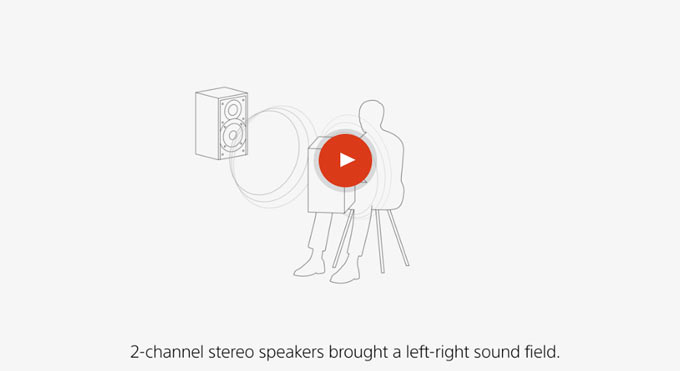 One of those offending statements would have us believe that "2-channel stereo speakers brought a left-right sound field" to music listening. What they fail to mention is that 2-channel stereo includes the ability to locate or "pan" an individual sound to any place between the speakers NOT just the left or right sides. Within a 5.1 surround setup, the possibilities expand to the entire 360 degrees not just the 5 speakers!
What moving to Dolby Atmos in movie theaters or the new SONY 360 Reality Audio technique really means is that "objects of sound" are placed anywhere in the environment without individual speakers being required for each location — sort of the same thing as "phantom center" but with the addition of height information. And it's accomplished with a specific number of actual speakers. We can debate whether adding elevation information to instruments or voices is desirable in a music mix but what really matters is the resultant listening experience for the consumer. If a completely immersive 360 degree mix can be delivered using a set of headphones, a beamforming sound bar, or array of "virtual speakers" then the task is accomplished.
The real question is whether the public will embrace immersive music as the next big thing. I hope they do. The AIX Records HD-Audio 2017 sampler is a great way to experience different genres in two different surround modes.
The New AIX Records Site Launches
I've been spending a lot of my time migrating all of the information and sample tracks from the old AIX Records website to the new site. It's a rather slow process but so far I've got all of the Blu-ray albums set up at the new AIX Records site. It will eventually be located at the correct aixrecords.com URL but the staging site is working on computers, tablets, and smartphones. It's far simpler than the previous site and will be easier to maintain. And it really works — orders can now be taken!
The plan is to augment the site to include file downloads and perhaps even streaming in the future. For now, I'm pleased that it's coming together. Any comments or advice on the new site will be very much appreciated. Take a look at the new design…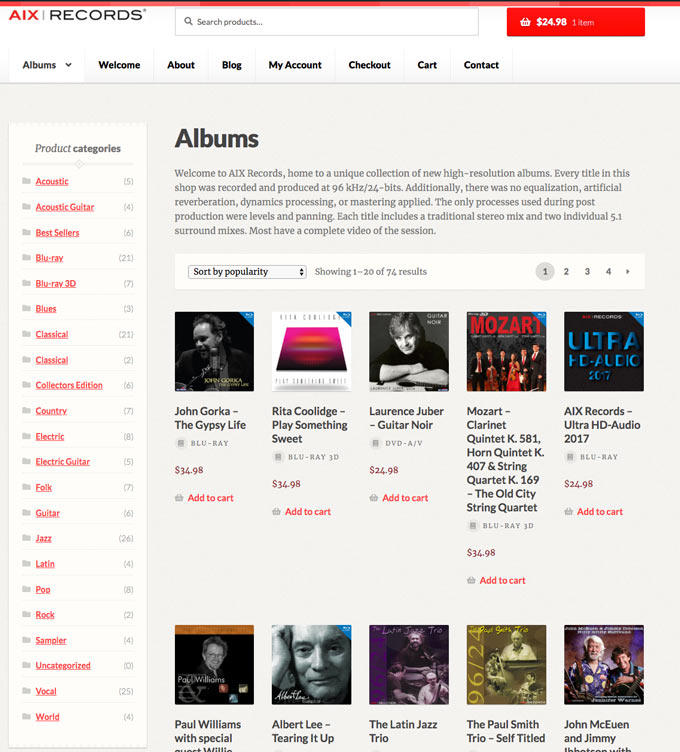 A Favorite Compliment
In my last post, I relished some very positive comments that customers have made over the years. I bumped into my favorite comment this week and wanted to share it with you: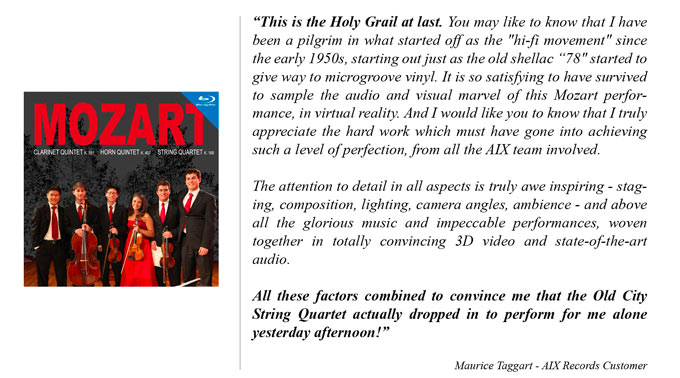 "This is the Holy Grail at last. You may like to know that I have been a pilgrim in what started off as the "hi-fi movement" since the early 1950s, starting out just as the old shellac "78″ started to give way to microgroove vinyl. It is so satisfying to have survived to sample the audio and visual marvel of this Mozart performance, in virtual reality. And I would like you to know that I truly appreciate the hard work which must have gone into achieving such a level of perfection, from all the AIX team involved.
The attention to detail in all aspects is truly awe inspiring – staging, composition, lighting, camera angles, ambience – and above all the glorious music and impeccable performances, woven together in totally convincing 3D video and state-of-the-art audio.
All these factors combined to convince me that the Old City String Quartet actually dropped in to perform for me alone yesterday afternoon!"
Maurice Taggart – AIX Records Customer
Music and Audio at 35% OFF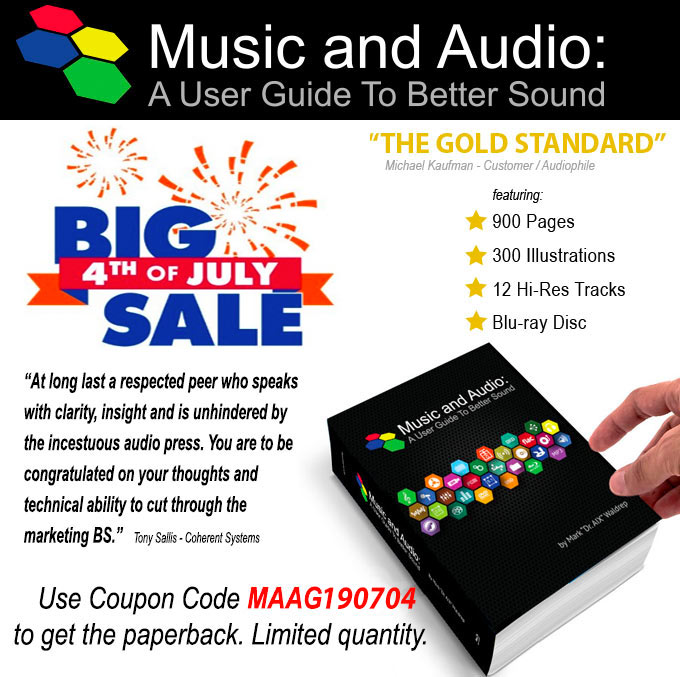 Don't forget that the July 4th Special Discount for 35% off the book continues through the end of the month. Use coupon code MAAG190704 during checkout to receive the discount. I'll gladly include the eBook version at no charge for all new order.
Thanks