A Visit To PS Audio: Part II
Thanks to my very gracious host Paul McGowan carving out a couple of hours from his very busy day, I was treated to a tour of the PS Audio facilities in Boulder, Colorado on Wednesday of this week. I wrote part I about my experience yesterday. You can read it by clicking here. Today's post focuses on the time that Paul and I sat in his very high-end demo room playing a variety of my tracks and some of the tracks from the PS Audio collaborative record project.
After I finished burning a DVD-R of about a dozen real HD-Audio stereo WAV files in Paul's office, we returned to the PS Audio demo room to do some careful listening. The room is about 20 feet long by 18 wide and maybe 10 feet high…the size of a reasonable home theater, except this room doesn't cater to video or surround sound. It's strictly an ultra high-end 2-channel playback environment. The first things you notice are the two gigantic Infinity IRS V speakers. As you can see in the picture below, they are very large. The towers include 76 EMIT tweeters, 24 EMIM midrange drivers, and twelve 12-inch polypropylene woofers in four towers. Originally selling for $65,000, according to Paul there were only 56 pairs ever made. He snagged a pair for considerably less the original price and squeezed them through the door of his demo space. They are huge.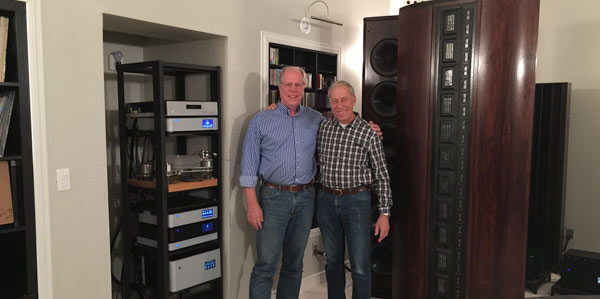 I wrote to Paul and asked about the rest of the signal path. Here's what he told me about the system:
"The transport is our Memory Player, the PerfectWave Transport (everything is read from a DVD ROM drive, stripped of its timing info and placed into a 64mB RAM buffer, then output with a fixed low jitter clock). Then into DirectStream, up samples 10X and converted to 2X DSD. The output of DirectStream is right off the FPGA DSD output into a simple analog filter and into the preamplifier. The preamp is a Aesthetix Calypso tube and that into the new BHK Signature Power Amplifier with its own vacuum tube input, MOSFET outputs."
There are shelves full of demo CDs and DVDs on one wall of the room and I noticed a copy of my High-Resolution Experience Sampler among the collection. Having learned that the PerfectWave Memory player was limited to CD/DVDs and couldn't handle my Blu-ray sampler, I thought that perhaps the Hi-Res Experience DVD could be the source for our listening session. Paul inserted the disc into the disc drive of the unit and nothing happened. The AIX sampler has two sides…one side is formatted as a DVD-Video disc and the other is a DVD-Audio disc. Unfortunately, the PerfectWave Memory Player isn't compatible with those formats. It can read and play CD-Audio, CD-ROM, and DVD-ROM discs. But if you have any Pure Audio Blu-ray discs or DVD-Audio/Video discs, it rejects them. We were back to the DVD-R that I burned in Paul's office.
If you've been a reader of this blog for a while, you'll know that I've written critically about Paul's fixation on DSD and what I perceive as illogical design decisions in some of their recent products. Paul is well aware that I sit on the other side of the 1-bit DSD divide. For all of the reasons that I've discussed over two years of posts AND because I'm a recording engineer/studio owner, I'm one of those that categorically dismisses the whole 1-bit nonsense. My comments about PS Audio products and Paul's endorsement of DSD have nothing to do with him personally. I have tremendous respect for Paul as an advocate for better sound. He runs a very successful business, employs a bunch of people, and advocates for his position and products, as you would expect. It was very encouraging that he and I had a very positive experience on Wednesday. It is possible for two people with different opinions on high-end audio to find common ground and I look forward to the beginning of a real friendship. I felt his commitment to better sound and look forward to exploring mutual opportunities.
But the first component in his playback system comes up short when it comes to the popular formats for delivering high-resolution audio. I couldn't use a USB stick to pass HD-Audio to his system and the PerfectWave MEMORY player isn't compatible with DVD-Audio/Video or Blu-ray discs. The design decisions made by PS Audio seem unnecessarily limited. I can certainly agree with the offloading of the digital stream into a large data buffer and clocking the output with a very low jitter clock but to restrict the inputs to DVD-ROM and CDs is far too limiting in this file based world.
Here's the sales promo from the PS Audio website:
"The Memory Player plays both standard and high resolution audio on CDs and DVDs sending perfect digital audio data from its solid state memory directly to your DAC and then onto your loudspeakers, eliminating jitter. All music extracted from your CD or DVD disc plays from the PWT's internal solid state memory, not the disc itself. The performance is remarkable."
OK, I like the concept except that it presents a real challenge compared to other players. From the FEATURES page describing the PWT:
"High resolution downloads from sites like HD Tracks can easily be converted from FLAC or ALAC to WAV files on your computer, transferred to a DVD and played in all their high resolution glory on the PWD."
What the above statement says is that you have go through a series of not-so-trivial steps before you can hear a high-resolution downloaded file. First, you download a FLAC file from HDtracks. Then you have to convert it using a piece of audio software to a WAV file (which strips off all of the metadata) and burn a DVD-R disc to insert into the PWT. This strikes me as a couple of too many hoops to jump through to hear a downloaded HD track. Shouldn't a high-end player handle audio files directly?
I don't follow the sales trends for front-end media players, but I think the Oppo line of players offer more flexibility and value than the PerfectWave Memory player…and they sound pretty amazing. I'm planning on using on as the front end in my AXPONA high-end demo room.
To be continued…