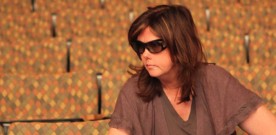 You might think that I write weeks worth of posts ahead of time and simply schedule the posts to cover things like holidays etc. I have managed to get a couple of days ahead once or twice but for the most part these articles are "baked fresh" daily. Today, I'd like to diverge from the usual audio talk and share a few items of a more personal nature. This is big weekend for the Waldrep family!
Today, my lovely wife celebrates her birthday! And twenty-six years ago, she got the best birthday present imaginable…the arrival of our youngest son! Yes, they share the same birthday. I haven't ever researched what the chances are that a parent shares a birthday with one of their children…but I've always considered November as a double header in the Waldrep family. It seems pretty special to me.
Some of you might have dealt with Mona on the phone or via email because she handles all of the not-so-fun stuff here at AIX Records and iTrax.com…she handles all the accounting, the orders, packing and post office duties. She sorts out any problems that you might encounter with an order and does so with great patience and care (please be patient and understanding…she really does care and does her very best).
You should also know that she is also a skilled musician…having grown up playing the piano in rural Iowa (she loved to practice…if you can believe it) and then moving on to operatic singing.
She studied voice for many years. In fact, that's how I met her while she was studying at the Music Academy of the West in Santa Barbara. She spent a summer studying with the late Martial Singher, one of the truly great voice teachers and coaches. Mona has an incredible voice. Our early dates were trips to the music center to hear recitals by some of the truly wonderful singers of the time. I was hooked…in more ways than one.
Just recently, I transferred some of her old audition tapes from my trusty Nagra IV-S to PCM digital files. If I can get her permission, I'd love to share a few of them with you via the FTP site (I'll let you know). Of course, the recordings are not the best high-resolution audio tracks, but you'll get the idea. She was that good…but opted to dedicate herself to her family, to me and to MY passion. I've been truly blessed to have this wonderful woman in my life.
[UPDATE] I have posted one of the tracks from a 1980 audition tape that Mona recorded to the FTP site. It is in a folder called "Mona Waldrep – Willow". If you agree with me and like what you hear, please feel free to send me an email or post a comment below and I will make sure Mona reads it.
The other Waldrep celebrating a birthday today is our son Michael. Unfortunately, he couldn't make the trip from Boston to Southern California for the weekend but will be home soon for Christmas. He's got one more semester at MIT before he earns his graduate degree in urban planning. This young man, 26 years old today, has a pretty good head on the top of his 6'7″ body. He spent a year at Oberlin before finishing he undergraduate degree at UC Berkeley.
Thanksgiving was last Thursday, of course…but it was also my 31st wedding anniversary. To be honest, it skipped my mind because of all of the other goings on. The holiday activities, family visitors and a long weekend with the San Francisco based UX designer daughter just obliterated the day. (Yesterday was also my sister-in-laws birthday…just too much stuff!).
Thanks for indulging me today…back to the audio grind tomorrow. I'm going to introduce you to the newly designed iTrax.com site.
Forward this post to a friend and help us spread the word about HD-Audio
Share
About Author
(2) Readers Comments