A good friend alerted me to a new crowd sourcing campaign at Indiegogo the other day…another one involving a line of new "high-resolution" players…for both audio and video. The people behind this effort were looking for $30K and had already raised their goal within the first day (after four days it stands at about $150,000). They describe their new device as the world's first players to combine UHD video with "Hi-Res Audio"…but the entire campaign is full of misinformation, mistakes, deception, and spin. Just about everything they wrote is wrong. I'm not going to provide a link to their campaign because it doesn't deserve to succeed…but it already has. They've got their money but I don't want to contribute to their misleading effort.
Here's a few quotes borrowed (copied) from the campaign:
• Additionally, with the mid priced and top-of-the-line models, you'll have access to Hi-Res Streaming services like Tidal and Deezer via the Google Play Store.
Tidal and Deezer aren't delivering "Hi-Res Streaming". Tidal has be talking about using MQA but that won't fundamentally improve the fidelity of standard-resolution (CD-spec) audio files.
• "Our goal as is to push the whole industry into adopting Hi-Res Audio as the new standard for music."
So they're planning to introduce a line of portable players with lots of big numbers of sampling rates and formats compatibility but with lackluster performance.
• "It frustrates us that audio quality (for both music & film) has stalled at 44.1KHz/16bit Audio as its standard when audio technology and storage space are no longer a limiting factor."

Audio quality hasn't stalled at "44.1 kHz/16-bits". If they bothered to look around the current audiophile marketplace, they would know that most servers and even competing portable players (think Pono, Astell & Kern, Sony etc) moved beyond CD spec 10 years ago. And films haven't ever used 44.1 kHz/16-bits!
• "For those without a huge Hi-Res collection, the company's device will also upscale compressed formats to 192KHz/24bit – so all your music will sound better!"
According to these guys, all you have to do is upscale your MP3s to 192 kHz/24-bits and your music will sound better. This is blatantly false. The size of the file will grow and the bandwidth required to play your new larger files but the fidelity will still be the same as the original source files.
• "You will also be able to upsample non-Hi-Res Audio up to 384KHz/32bit."
Why would you want to bother increasing the size of your files by 2, 4, or even 8 times while leaving the fidelity as it was in the original file?
• "The 3.5MM Jack will function as a Headphone Amp supporting up to 384KHz/32bit Audio out! (We are also testing a 768KHz/32bit mode, however this is yet to be confirmed)"
There are tremendous limits on audio quality in a DC powered portable device. These guys are stuck on bigger numbers…not because it helps the audio fidelity but because it makes great marketing copy.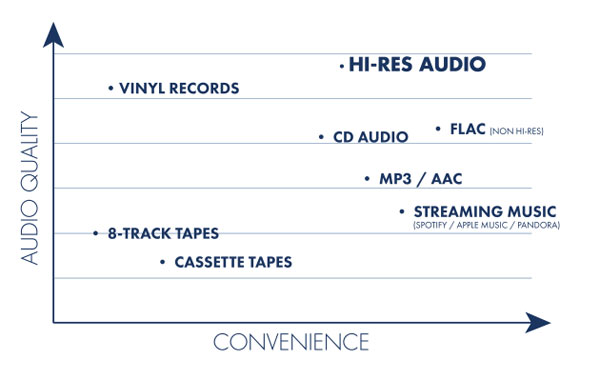 Figure 1 – A graphics showing the convenience vs. quality of various formats.
The webpage then shifts to some background and definitions.
"The music we listen to doesn't sound like the artist intended. This is a modern problem that has arisen because most consumers prefer convenience over quality. Because of compression the music we regularly listen to is highly clipped and we miss many of the details and thus we end up with only a shell of the artist's original vision."
The music we get from the labels is exactly like the artists intended…they are involved in the approval process. The company complains about data compression (AAC and MP3) and then talks about audio compression. Creating MP3 files doesn't introduce clipping! Any compromises to the natural dynamics of a selection of music happens in the studio or mastering room…and none of the devices on the market can compensate for the "lack of details".
"We don't realize it, but low-quality, compressed music has a way of making you feel tired. This is because of temporal distortion created by compression."
This sentence sounds like the nonsense that early 1-bit advocates and many PCM digital detractors claimed. You might remember tests that prevented people listening to PCM audio being unable to raise their arms, while those listening to SACDs could.
"With Hi-Resolution music you feel fully immersed in the music. The sound stage is perfectly clear and free of distortion. The harmonics are crisp and accurate. You can feel the bass going through your body with unparalleled detail."
More marketing hype! New Hi-Resolution music productions (now they've shifted from Hi-Res Audio to Hi-Resolution music…continued confusion) can have better sound but upsampling or transferring to higher sample rates and longer word lengths rarely increases fidelity or does any of the things mentioned in their marketing blurb.
"By definition of the Japan Audio Society Hi-Res Audio files have a sample rate of at least 96KHz / 24bit."
The campaign's webpage does use the JAS "Hi-Res Audio" logo and I was assured that the company had secured a license to use it. But the Hi-Res Audio logo can only be applied to hardware and therefore saying the JAS specifies files at 96 kHz/24-bits is completely false.
This company is not alone in its gross misrepresentations. And get ready for the onslaught of "information" by consumer organizations and retailers as the holidays approach.
Forward this post to a friend and help us spread the word about HD-Audio
Share
About Author
(11) Readers Comments